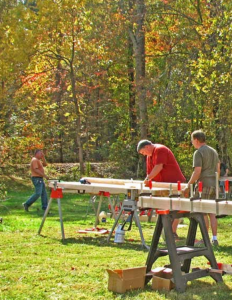 I'm excited. It's fall, and it's perhaps the busiest season of the year in woodworking. We have some wonderful events on tap – including the launch of Marc Spagnuolo's "Hybrid Woodworking" and of course the Woodworking in America 2013 Conference. (Breaking news: I'll be there in Cincinnati. Will you?) But here's what all the excitement amounts to – this is the time of year when you take the woodworking ideas that you've had percolating all summer and turn those ideas into reality.
What's that you say? You're drawing a blank on woodworking ideas? Well, we've got that covered too. Each of us on the team has chosen a few of his or her favorite resources in our collection. All of them are on sale at 50% off, so take advantage and gain some inspiration. Here are just a few. Click on the images to visit the store pages.
---
1. "While I truly enjoy writing and editing for Popular Woodworking Magazine, working on this now-defunct sister publication was my favorite quarterly task. Each issue was a mini book, if you will, with one coalescing tool or technique that was used throughout." –Megan Fitzpatrick
---
2. "Ron Hock's book does for sharpening what Bob Flexner's Understanding Wood Finishing did for that end of woodworking: It explains every aspect of sharpening and demonstrates how to get perfect results on every woodworking tool. You'll come away from this book with a better understanding of what really constitutes 'sharp' and how to achieve it using sandpaper, stones, grinding wheels and more." –Kevin Ireland
---
3. "There are times when I just want to go into the shop and bust out a few quick projects. That's when I turn to the 'I Can Do That' projects. These projects are made using materials from the home center, and can be accomplished in short order. You cannot go wrong with any of the digital downloads, but why not go for the book? In it you get projects for shelves, storage, display and more. If you're a beginner or have years of experience in the shop, these projects are fun (and useful)." –Glen Huey
---
4. "This book is now out-of-print, but I'm very happy that it's still available as a PDF download. The author's view to sculpting wood inspired countless woodworkers, but her original work is still the best. This book includes patterns for 29 projects and nine step-by-step chapters to teach the basics. If you feel artistic about your woodworking, this book is an entre into a world of creativity." –David Thiel
---
My own pick is the woodworking book that has changed my time in the shop the most this summer. I used to dislike finishing. Now I enjoy it. The difference was in gaining knowledge, and Bob Flexner is the author who provided that. The information on using what Bob calls "wiping varnish" is worth the price of the book alone. You'll find that this becomes your go-to resource on all questions related to indoor or outdoor finishing. Click here to buy it today!
–Dan Farnbach