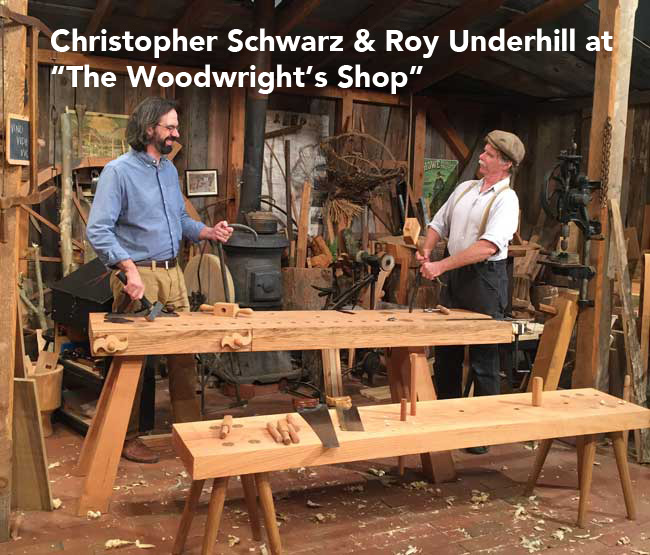 Christopher Schwarz's next book (I've been urging him to refer to it as a monograph, given its single subject and form – and perhaps my penchant for hyperbole) will be on two Roman workbenches – one ancient design based on an 18th-century drawing of a fresco at Herculaneum and a surviving fresco at Pompeii, and one early modern design (he's calling that one the Holy Roman Bench) from a drawing in a 1505 Nuremberg codex by Martin Loffelholz – the earliest bench image found that shows what we might consider modern workholding.
Chris – crazy man that he is – decided in April that he was going to build both benches in time for  Popular Woodworking in America in October (in between all the other demands on his time:  running Lost Art Press, writing for Popular Woodworking, his family, commission work…). In my 18 years of working with him (I wrote direct marketing for PW before joining the magazine staff), he's never missed a deadline; I thought this one might be the first. I was wrong.
In the rush to get things done, he actually asked me for help (rare), so I got a look at the benches in various stages as they went together. I was there, for example, when he drilled the leg mortises in the low bench (to help spot him on drilling), and seating the (first) four legs. "Hey! Let's add four more!," he said. I thought he was tetched…but now I can't imagine the thing as a quadruped.
After watching him work at the low bench and trying it out a few times for myself, I think it would be perfect for an apartment woodworker who uses hand tools; it's the perfect height to double as seating and it looks good to boot.
I was also there to help keep him on angle for the Holy Roman Bench legs; the wood was so wet that steam began pouring out of the mortise from the bit's heat. (I thought at first we'd actually managed to start a friction fire – something I was never able to do to earn that Girl Scout badge.)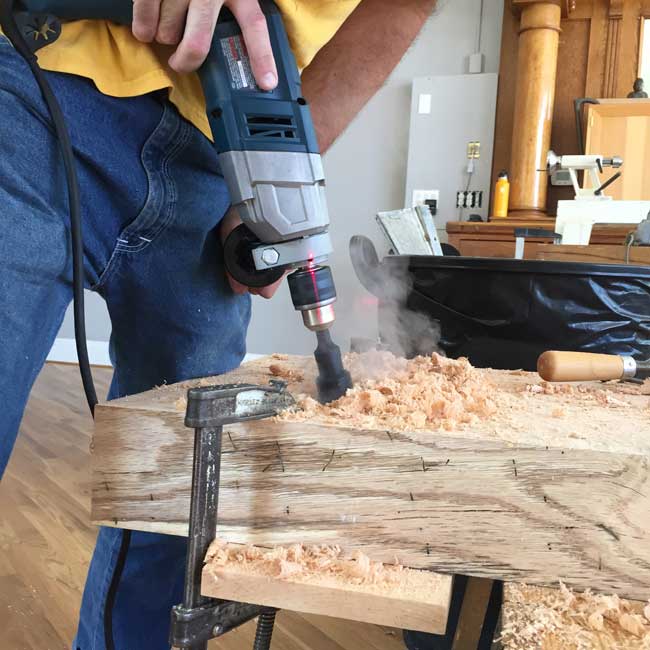 On this bench, Chris stopped at four legs – but the size and angles of these was also quite odd to my eye at first (and second) glance. It looked like something out of Dr. Seuss – especially when it was on its back. But now again, I can't imagine it any other way; once the vises were added it looked right.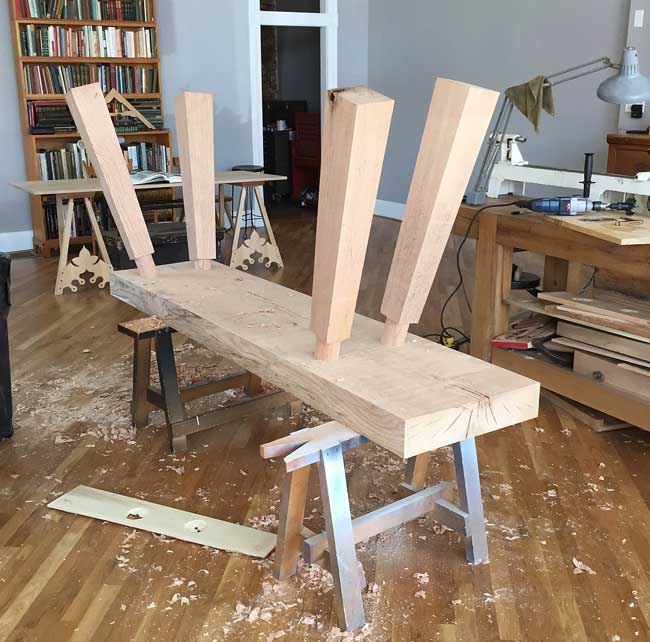 You can read more about both benches on Chris's Lost Art Press blog and on his Popular Woodworking blog (search for "roman"). And you'll see him discussing them with Roy Underhill on an upcoming episode of "The Woodwright's Shop." But we caught up with him at Popular Woodworking in America – just days after the benches were done – to ask him about the Holy Roman Bench:
For more from Christopher Schwarz on workbenches and workholding, read the newly revised edition of "Workbenches: from Design & Theory to Construction & Use."