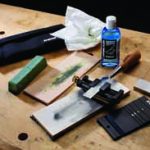 by Christopher Schwarz
page 16
To be frank, I'm not a fan of sharpening hand tools using diamond systems because I don't find the final edge as ideal as one produced on oilstones or waterstones. That said, the new Trend Diamond Honing & Polishing kit (DWS/KIT/B) gets so many things bang-on correct that it is worth recommending for beginners.
For starters, for a $200 investment, you get everything – everything – you need to grind, hone and polish tools. There's nothing else to buy.
The heart of the system is a two-sided diamond plate. One side is #300 grit (50 micron) for occasional grinding; the other is #1,000 grit (10 micron) for daily honing chores. The stone is lubricated by a light petroleum-based oil (included) that keeps the stone free of rust and swarf. Plus, you get an eraser for cleaning the stone.
The second important part of the system is a honing guide and angle-setting jig. This side-clamp guide is worlds away better than a typical Eclipse guide. It clamps tools up to 21⁄2″ wide securely, but has two flaws. It runs on a wide 21⁄2″ roller, which is great for straight edges, but prevents you from cambering bench plane irons. Second, it won't hold a blade for a No. 8 and some odd-shaped tools. But all-in-all, it's great for beginners.
Also included is a leather strop with honing compound for a final polish. Stropping a diamond edge will improve its cutting action, but it doesn't produce as durable an edge because of the remaining deep diamond scratches.
You also get an instructional DVD and handy carrying case. In all, it's a good product for people who work in the field or are just starting out. As you become more skilled, you'll want to add finer stones to the system to chase after edges that produce perfect surfaces.
Editor's note: After the above review ran, we received the response below from Trend. In response, Christopher Schwarz says, "Thank you for your comments. I stand by my own experiences and my review."
July 24, 2015
We thank you for the review of the Trend Diamond Whetstone Honing & Polishing Kit in the August, 2015 issue of Popular Woodworking Magazine. While we appreciate the recommendation for beginners, we have come to a different conclusion.
First of all, we agree that woodworkers that want the ultimate mirror finished edge should invest in other mediums to achieve this edge in conjunction with a diamond stone. However; in working hundreds of shows over the years, evidence has shown that the edge that can be achieved by the utilization of Trend diamond stone, leather and paste can result in an edge that is more then satisfactory to a good portion of woodworkers that are sharpening chisels, plane blades and fine cutlery. The end product can be described as "a mirror finish."
Secondly, you mention that you receive, "deep diamond scratches" when utilizing a diamond stone. Diamond stones require a "breaking in" period. Residual diamond must be removed – this is best achieved by gently working an old plane blade over the stone with lapping fluid. Quality diamond stone performance will improve over time.
Thirdly, you state that the 300 grit side can be utilized for "occasional grinding." In fact, the 300 grit is crucial in the flattening of chisels and plane blades and one can not achieve a true edge without a flat back surface. Trend diamond stones are pre-ground to +/- 0.005". A flat surface and a quality coarse diamond are critical to the sharpening process.
Finally, you mention your preference of waterstones and oilstones. While these mediums have their place, diamond stones are rapidly gaining in popularity due to their rapid cutting capacity, longevity and in "keeping true" over time. Indeed, many professionals utilize Trend diamond stones to flatten waterstones and oilstones.
Sincerely,
Jamie LaMuraglia
Trend
Web: trend-uk.com
Blog: What do sharpening scratches look like?
From the August 2015 issue