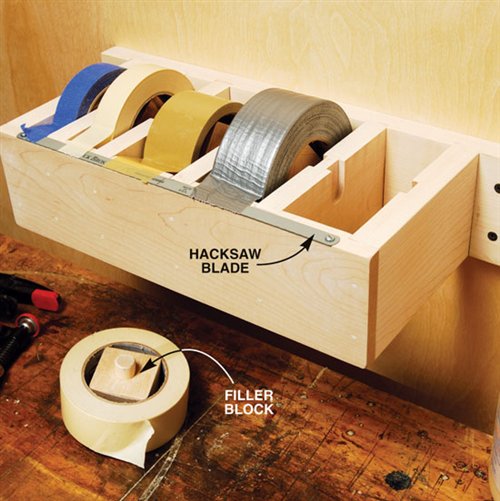 Jumbo Tape Dispenser

I have five or six different kinds of tape in my shop, and last weekend I got fed up with rooting through a drawer to find the one I wanted. To solve the problem, I built this tape dispenser that holds a variety of tape widths and types.
I made my dispenser from scraps of 3/4-in. birch lumber but plywood will work. Almost all regular-size rolls of tape have a 3-in. center hole, so the same size filler block will work for most rolls.
I made my filler blocks 2-3/16-in. square and rounded the corners until I got a tight fit inside the roll. The axle was simply a 3/4-in. dowel. The axle fits into a slot in the dividers. I cut the slots on my router table using a 3/4-in.-dia. straight bit. They are 1/4-in. deep and 1-1/2-in. long.
A hacksaw blade on the front panel serves as the tape-cutting edge. If you need a roll closer to your project, just lift it out and take it with you.