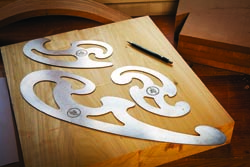 by Christopher Schwarz
p. 16
I like using French curves for laying out hyperbolas, ellipses and parabolas when designing furniture details. These curves are not static arcs – they are segments of the Euler spiral – and so the shapes they create have more spring and life.
The typical set of French curves consists of three small plastic layout tools that are suitable for small pieces of woodwork or small scaled layouts. What I've struggled to find are larger French curves that allow me to add curves directly to full-sized furniture work or full-size drawings.
Also, I hate plastic layout tools (that's a personal problem).
Sterling Tool Works has just released a set of stainless steel curves that are perfectly sized for furniture-makers. The largest is 18″ long; the smaller ones are about 8″ and 9″ long. These sizes are fantastic for laying out curves for chairs or full-size casework.
Read the full review here.
Web: sterlingtoolworks.com
Blog: Read more about these curves on our web site.
From the October 2015 issue