Will you be building your own kitchen cabinets anytime soon? Have you thought about building frameless cabinets? There are several advantages to this style of construction, including the requirement for fewer tools, less sanding and easy hardware installation. You may want to give frameless construction some consideration before you sit down to plan your new kitchen.
If you don't have a lot of big power tools in your shop, frameless construction could be the better option for you. Since you won't have to build any solid wood face frames, you won't need a planer or jointer. You can make slab doors out of plywood, MDF or melamine. They'll need to be edge banded, but that can be done with an iron if you're using wood banding, or with contact cement for PVC. Slab doors give your design a sleek, contemporary look.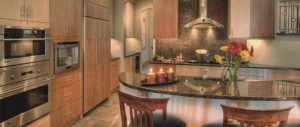 Many commercial cabinet shops outsource their frame-and-panel doors, and you have this option, too. There are several companies that sell pre-assembled doors to consumers, and many of these offer online ordering. If you really want frame-and-panel doors but don't have the tools to make them, consider outsourcing. You can still make all the cabinets.
Frameless cabinets are easy to make even if you don't own a table saw. All you really need is a circular saw, a router and a drill/driver. Sheet goods are easy to cut with a circular saw and a guide clamped to the material. You can cut back grooves with a portable router or a router table. Your cabinets can be assembled with biscuits, dowels or screws.
When you build frameless cabinets, you spend a lot less time sanding. Build your casework and doors out of melamine and you won't have to do any. There are hundreds of cool wood grain and other melamine patterns available, so you should be able to find something that matches your tastes.
Most of today's cabinet hardware is designed for frameless cabinetry, so you'll have a huge assortment of hinges, drawer slides, lazy Susans, blind corner units, pullouts and other gadgets to choose from. You can buy or make your own jigs for drilling holes to mount hinges, drawer slides and adjustable shelves.
There's one more potential advantage to frameless construction many woodworkers will want to keep in mind. Frameless cabinets don't always need to be finished. If you use melamine for your boxes, drawers and doors, you can avoid the finishing process completely and move directly from construction to installation.
If you want your new cabinet project to be as easy as possible, consider building frameless cabinets. This style might not always be better, but many times, it is.
To learn more about designing and building your own kitchen cabinets, check out Brad's new Popular Woodworking University course, Building Frameless Cabinets.