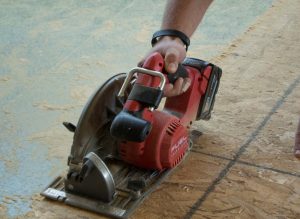 A few weeks ago I traveled to Milwaukee, Wisconsin to the New Product Symposium at Milwaukee Tools. If I had to sum the entire symposium up in a single word it would be; innovation.
Milwaukee tools have had the reputation for decades as being among the best professional grade hand-held power tools: That reputation has continued to this day. It's refreshing to see that a company with such a legacy has not rested on its laurels. They have an energized, creative group of people working hard to redefine jobsite tools. One of their stated goals is to replace corded tools with cordless tools that meet or exceed the capabilities of their corded counterparts. From what I saw at the Symposium, they're on their way to achieving that goal.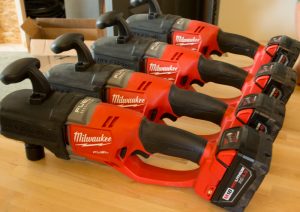 But you say, "I'm not a plumber, electrician or carpenter: I like to make furniture in my shop. How does all this innovation at Milwaukee benefit me?" The answer is simple.
There are tools in several Milwaukee lines that translate directly to the furniture maker. Sure, you're probably not rushing out to by a cordless HoleHawg, but you'd likely be in the market for a circular or jigsaw in either their M12 (12 Volt) or M18 (18 Volt) Fuel variety.
I tried the M18 Fuel 7 1/4″ circular saw and it's a serious piece of equipment. It has tons of power (I got to cut through 4 sheets of OSB in a single shot) and was still going strong at the end of the day after about 100 editors had a shot at making cuts with it. They also introduced a 12 Volt 5 3/8″ circular saw that, for a 12 Volt saw, has plenty of power.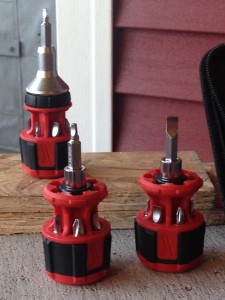 Their advancements in battery technology are changing the way professionals think about handheld power tools, but that will impact those of us who work in a fixed location as well. More powerful, longer lasting batteries will mean even the amateur furniture maker will get more out of their tools. There's nothing more frustrating than spending what precious little time you have in the shop waiting on batteries to charge so you can get back to work. With the new batteries from Milwaukee you'll be able to work an entire weekend on a battery or two. And, for the battery nerds among us, there's a 5.0 amp/hour battery due out this fall, which means even longer lasting tools.
If you've jumped on some of the previous Milwaukee hand tools (like the 10-in-1 drivers reviewed by Bob Lang here) you'll find lots more useful innovations coming this fall too. I have several of the 10-in-1 tools in my cabinet, but I'll be first in line when the new stubby (Milwaukee calls them "Compact") versions hit the street in November.
There's lots more to come. As the new tools arrive at PopWood, I'll give them a test and get my reviews up online as quick as possible. I think there's a lot to like coming from this creative, energetic, revitalized company.