In this sponsored video from IWF 2008, we take a look at Grex. The company continues with its successful line of 23-gauge headless pinners and shows us the new 2″ orbital sander and trigger-style gravity fed airbrush.
---
P650 – 23 Gauge 2″ Length Headless Pinner
Grex continues to push the limit of its popular line of headless pinners with the 2″ fastening capability from their new P650L. Now drive even longer fasteners with the same great features you'd expect from a Grex Headless Pinner.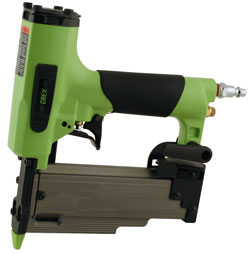 Features:
• Compact, lightweight, slim profile design for maximum maneuverability
• Powerful motor to drive fasteners through hardwoods
• Patented design eliminates need to adjust for different fastener lengths
• Drive fasteners up to 2", accepts 14 lengths from 3/8" to 2"
• Double trigger safety lock prevents accidental firing of tool
• Removable nose cover provides easy access to clear jams
• Narrow nose design reaches corners and tight areas for detail work
• No-mar rubber tip prevents marring of work surface
• 4-point alignment guide accurately locates position to drive pins
• Fastener indicator window shows when reloading is necessary
• Convenient drop-in loading for quick and easy fastener re-loading
• Convenient belt hook for easy carrying of tool
• Rear exhaust with silencer reduces exhaust sounds
• Rubber hand grip for a firm comfortable grip on tool
Specifications:
Dimensions: 7.75″L x 8.75″H x 1.75″W (20cm x 22cm x 4.5cm)
Weight: 2.68 lbs. (1.2 kgs.)
Operating Pressure: 60 ~ 100 psi (4 ~ 7 bars)
Fastener Type: 23 Gauge Headless Pins
Fastener Range: 3/8″ ~ 2″ (12mm ~ 50mm)
Fastener Capacity: 1 strip (approx. 100 pins)
Air Inlet: 1/4: (6mm) NPT male plug
---
AOS368

– 2″ 105° Angle Random Orbital Sander

The most popular of our angled air tools, the AOS368 is a compact smooth operating and powerful random orbital sander. Easily attach the hook and loop sanding paper of your choice. An optional larger 3″ pad attachment is available. This product is part of our line of patented 105° angled air powered tools.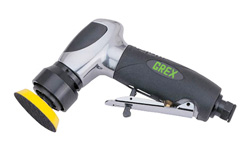 Features:
• Patented one piece housing design for a more relaible tool.
• Uses standard hook and loop sanding paper of your choice.
• Ergonomic housing with thermal isolator for continual usage.
• Santoprene Grip for superior comfort with a variety of applications.
• Lightweight and compact design to prevent fatigue from prolong use.
• Precision milled hardened steel gears for smooth operation.
• Ball bearing motor and output for smooth running and long life.
• Ideal for corners and tight areas that an inline sander can't reach.
• Optional 3″ sanding pad attachment is available.
Specifications:
Dimensions: 7.1″L (18cm)
Weight: 1.45 lbs. (0.66 kgs.)
Operating Pressure: 90 psi (6.2 bars)
Free Speed: 15,000 RPM
Air Consumption: 2.2 SCFM
Horse Power: 1/3
Collet Size: 1/4″ (6mm)
Orbit Diameter: 3mm
Air Inlet: 1/4″ (6mm) NPT male plug
Applications:
Better finishes sanding on metal, wood and more surfaces.
---
Genesis.XT

– Double Action Side Gravity Fed Airbrush

 The Genesis.XT is a prime example of Grex meeting the needs of the artist. Using a gun style trigger, the user pulls the trigger to control both air and paint, providing more comfort during long spraying sessions. From very fine lines to good area coverage, the XT covers a lot of territory.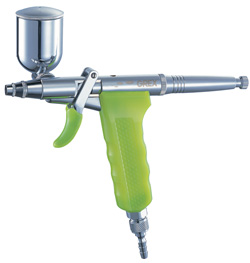 Features:
• Cutting edge design specifically for precise control of fine detailed work.
• Preset handle for precise paint volume control.
• Solvent proof teflon seals allows use of any medium.
• 360 degree adjustable side mounted reservoir.
• "Pull" trigger to control both air and paint.
• Includes two reservoirs: 7mL (1/4 oz.) and 15mL (1/2 oz.)
• Internally mixed for improved atomization.
• Precisely machined stainless steel nozzle and needle.
• Larger diameter nozzle threads for improved centering & stronger tightening.
• Durable heavy nickel chrome plated housing.
• Convenient to clean design.
• Short passageway from cup to nozzle for responsive feel.
• Accept oils, gouches, urethanes, enamels, lacquers, acrylics, dyes, inks, & more.
• Adaptable with major brands of airbrush jars and/or color cups.
Specifications:
Type: Double Action
Fluid Nozzle: 0.35 mm
Feed Type: Side Gravity
Fluid Capacity: 7ml (1/4 oz.), 15mL (1/2 oz)
Spray Width: Hair Line to 38mm (1.5″)
Weight: 305g (7.2 oz.)
Length: 150mm (5.9″)
Oper. Pressure: 14 ~ 80psi (0.96 ~ 5.52bar)
Applications:
Illustration, Fine art, Murals, Textile, Automotive, Body art, Woodworks…