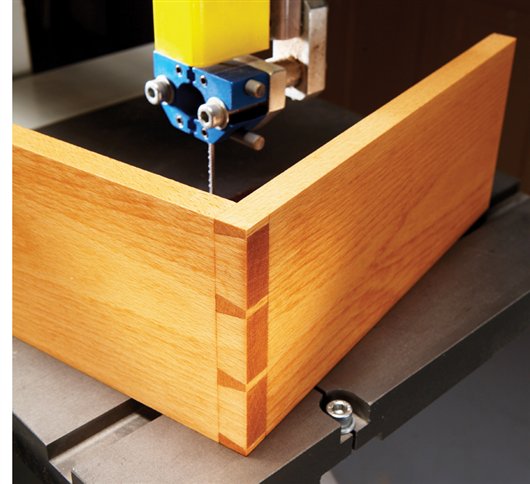 Bandsawn Dovetails
Hand-cut
appearance
with half
the fuss.
By Seth Keller
Purchase the complete version of this woodworking technique story from AWBookstore.com.
If you've labored over handcut
through dovetails, you'll
be amazed how much faster
they can be cut on the bandsaw. You
get all the benefits, including strong
joints, classic appearance, the ability
to use boards of any thickness and
the freedom to size and space the
pins and tails however you want. The
only limiting factor to this technique
is your bandsaw's throat capacity. My
saw allows making joints up to 14"
wide. That's wide enough for any
drawer, but not for a blanket chest.
As with any woodworking technique, mastering
this one takes a little practice. You'll need a sharp
blade and Cool Blocks for your bandsaw (Photo 1
and Sources, page 4) and a jig that you can make
in less than half an hour (Photo 2). I usually keep
a chisel handy, too, for fine-tuning the fit.
1. Bandsawn dovetails require making sharp turns in
confined spaces, so outfit your bandsaw with a 1/8"
blade with 14 teeth per inch (14tpi). You'll also have to
replace your saw's metal or ceramic guide blocks with
Cool Blocks. Cool Blocks support the thin blade without
damaging its teeth.

Click any image to view a larger version.
3. Locate the pins on the end of one board. Then use
an adjustable square to transfer the straight lines
to the remaining pin board faces. Laying out bandsawn
dovetails is faster than hand-cut, because you don't
have to mark the wedge-shaped pins on the end of
every board.
4. Cut the first side of all the pins. Make straight cuts,
following your pencil lines. Stop at the board-thickness
scribe mark. Your angled sled automatically slopes
the pin. I strike angled marks on the ends to avoid cutting
the wrong lines.
8. Rotate the board and use the fence to cut the shoulders.
Start from the back corners you've just cut.
10. Cut the pin sockets. Define the sockets by cutting
along the inside edges of the pencil lines. Be sure
to leave the pencil lines. Cutting the pin sockets creates
the tails.
12. Test-fit the joint. The parts should slide together
with light pressure. If they won't go, locate the spots
that bind and pare them to fit with a chisel.