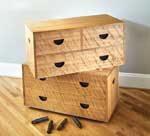 Built to move (and to last), this piece blends classic proportions and clean lines.
by Christopher Schwarz
pags. 24-31
When the British Empire began taking over the world in the 18th century, one vexing problem at its tropical holdings was the monsoon season. When it hit, applied carvings and ornaments fell off the furniture, or the glue was consumed by insects.
Undeterred, the Empire developed a new kind of robust and unadorned furniture – what we now call campaign furniture – to hold the undergarments, brandy and books of the Empire's subjects in all four corners of the globe.
What is most interesting about campaign furniture is how it inspired many early 20th-century makers to create Danish Modern and other contemporary styles that were extremely well made but unencumbered by ornament.
This chest of drawers explores that link between the 19th and 20th centuries by starting with pre-Industrial proportions for chests of drawers and stripping away everything that is not needed.
Like most campaign chests, all the pulls and lifts are flush to the carcase, though in this case they are cutouts backed with darkened brass. Also like campaign chests, the entire thing breaks apart to be moved easily to a new apartment (or tent in the desert). But unlike 19th-century campaign furniture, this chest embraces contemporary joinery to make the chest a cinch to build.
Blog: Read a seven-part series on how this piece was designed from scratch: Part One, Part Two, Part Three, Part Four, Part Five, Part Six, Part Seven.
Blog: Read more about the history of campaign chests.
Website: Explore many other forms of campaign furniture.
In our store: "Build a Campaign Chair" on DVD or video download.