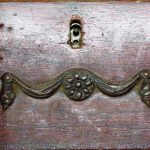 Discover how (and when) to give old, deteriorated finishes new life.
By Bob Flexner
Pages 62-63
As finishes age, they deteriorate. First they dull, then they begin showing small cracks (called "crazing"). The culprit of this degradation is oxygen, which attacks the finish very slowly. Crazing is accelerated so much by ultraviolet light and heat, however, that it's more helpful to think of these as the real causes.
As the deterioration worsens, not only does the finish look bad, it loses its primary function of protecting the wood from contact with liquids. Excessive moisture getting to the wood leads to veneer cracking, as well as joint and veneer separation, splits and warps.
Old furniture with a deteriorated finish usually ends up in a landfill. This is the reason the "Antiques Roadshow" message, "Don't refinish," is so unfortunate. Refinishing saves old furniture.
But old finishes can often be "revived," and most methods are quite easy. You just need to have some idea of situations and ways to proceed.
The Deterioration Process
As light and heat attack a finish, they begin breaking up the surface molecules. At first, you don't see the separations, you see just the dullness caused by light being randomly reflected. Eventually the crazing becomes visible to the naked eye.
The process occurs slowly and there are many stages along the way. In all cases the depth you can see into the wood is reduced, more so the worse the crazing.
There are four primary reviving procedures which you can use at any stage:
■    Apply furniture polish or paste wax
■    Clean and apply more finish
■    Sand the old finish smooth and rub out
■    Sand smooth and apply more finish.
If one approach doesn't work to your satisfaction, try another. Keep in mind that the worst-case scenario would be that nothing works well and you end up stripping and refinishing. You aren't ruining anything.
Furniture Polish & Paste Wax
Furniture polishes and paste waxes add shine, reduce scratching and restore depth as long as the finish isn't badly crazed. The most effective furniture polishes are those that contain silicone. This includes most available aerosols.
Unfortunately, silicone has gained a bad reputation from furniture conservators, refinishers and antique dealers who hate having to deal with fish-eye problems (small craters in applied finishes) that silicone can cause. But homeowners and housekeepers love silicone polishes, which have close to a 90 percent market share, because they last much longer and add the most depth and scratch resistance.
Articles: You'll find many free finishing articles on our web site.
In Our Store: "Flexner on Finishing" – 12 years of columns illustrated with beautiful full-color images and updated, and "Wood Finishing 101."
From the August 2013 issue #205
Buy the issue now