Four posts, an extra knife and a new dust hood make it a contender.
By Glen D. Huey
Page: 30
From the November 2007 issue #165
Buy this issue now
Most woodworkers consider the thickness planer to be one of the most important machines in a woodshop. As a result, many manufacturers have produced a variety of sizes in planers. None has been written about as much as the 13″ portable planer.
This size planer has gone through a multitude of changes over the years with each transition making it a better machine. More features are being added, and the tool is growing into a workhorse in most home shops.
Ridgid has an improved version of its portable planer, the new R4330. This 15-amp machine has new features, but it retains the useful features from the previous model.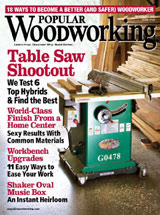 From the November 2007 issue #165
Buy this issue now