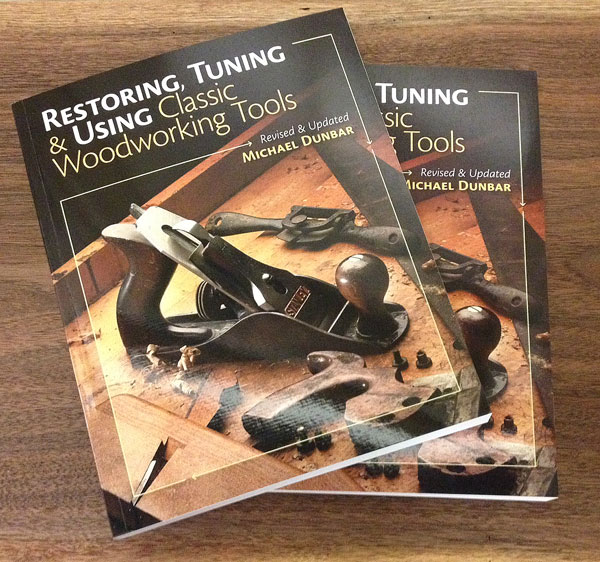 Recently, Michael Dunbar updated two of his classic books, "Restoring, Tuning & Using Classic Woodworking Tools" (which has just been added to ShopWoodworking.com) and "Make a Windsor Chair" – and I happen to have an extra advance copy of the first one on my desk. It's an excellent revision of his 1989 edition, but I really don't need two copies. So I'm giving one of them away. Simply leave a comment on this post before 6:59 a.m., Tues., Sept. 9. Sometime before lunchtime Tuesday, I'll choose a random winner from the comments (that will be a nice break from loading the truck to drive down to Winston-Salem for Woodworking in America).
Below is Mike's introductory chapter, so you can get a taste of what's inside (and below that, you'll find a free PDF download of Chapter 4, which just might come in handy for your weekend rust-hunting plans).
I wrote the original edition of this book—Restoring, Tuning, and Using Classic Woodworking Tools—in 1989. My goal was to make available to my fellow woodworkers the information and knowledge I had gleaned from years of using classic tools and studying every original source I could locate. I was aware that my book was comprehensive, as it took a year to write. Several years later I was surprised but gratified to learn that among old tool users the book was referred to as "the bible." The book remained in print for close to two decades and was missed when it was no longer available. I knew this because so many people contacted me asking how to get a copy.
The information about tools in the original book has not changed. The tools are the same. They are still used the same, and they are still repaired and tuned the same ways. However, the world has changed. This book was written when we wrote letters, talked on the phone, and shopped in person. In the meantime, the world entered the information age. Like everyone else, woodworkers now shop on line and communicate electronically at the speed of light. While some people still operate the old ways, most have entered the 21st century. So, when it comes to acquiring old tools, things have not changed, but there have been additions. I have done the same. I have not changed the original text, I have only added to it. That is why these opening paragraphs are in bold face. It is to show that this text is new. I will do the same through the book. So, whenever you run into boldface type you will know that I have added that information.
Every woodworker that I have ever known whether he or she works by hand or totally with machines, is an occasional woodworker or a professional, eventually acquires some tools that once belonged to someone else. They might be planes that belonged to his father or chisels that belonged to his grandfather. One way or the other, every woodworker will find himself owning at least a few such tools; most woodworkers own a lot of them.
I am partial to classic tools, tools that in this book are referred to as secondhand. Second-hand tools, which were built in the finest tradition of craftsmanship as far back as the 18th century and can be found generally in large numbers today on the marketplace, can play essential roles in today's fine-quality woodworking shops. I have been using them since I began woodworking in 1971. My affection is not just sentimentality, nor is it a desire to be quaint. Using older tools is a practical way to work wood. They are good tools, and when compared to the hand tools that are being made today, are most often the better ones.
In the following pages I explain how to buy, recondition, tune, and use most of the secondhand tools you will commonly find. Most of this information will also be helpful to you when you buy a new tool, as few tools come ready to use right from the box. They always have to be tuned and sharpened, procedures that incorporate many of the steps that I describe for reconditioning older tools.
This book is a practical guide. In writing it, I assumed that you already have a basic knowledge of woodworking, as well as a familiarity with hand tools—their purposes, how they are used, etc. Since it is a practical guide, it is intended for the woodworker rather than the collector. As a result, it does not have price lists or check lists of toolmakers.
Although the purpose of this book is to explain how to find, recondition, and use secondhand tools, not every type of tool is discussed, for two reasons. First, although I have done all sorts of woodworking, ranging from inlay to timber-framing, I have not worked with every tool found on the second-hand market and cannot speak with any authority about them all. For example, I only use a wooden spokeshave. I have tried metal ones, and so know how they work. I also know that they do not perform as well as their wooden counterparts. So, although they are a common second-hand tool, they are not included in this book.
Secondly, I live in New England, which was settled much earlier than other areas of the United States. Consequently, some of the tools found in New England are much older than those commonly found in other regions. Because many of these very old tools are not commonly found everywhere, I have excluded many (but not all of them). If by chance a tool has been left out that is of interest to you, I am confident that the information that is supplied will allow you to infer what you need to know to recondition, sharpen, and use it.
Although I do not generally recommend using what are usually called antique tools, and will explain why, I have included some. Wooden planes are a good example. So many dealers now sell these tools that they can be purchased mail order even if they are not regularly found where you live. So, no matter where you are located you can easily obtain wooden planes.
Many of them are still quite serviceable.
Each chapter deals with a different category of tools and begins with a general discussion of that type of tool that includes the following: the tool's history and evolution, its purpose, how it works, and the features and characteristics that make it worth purchasing. Also discussed are ways to recondition and tune that particular tool, and the problems that (in my experience) are most common to that type of secondhand tool. A section on selecting the tool contains information about the kind of damage (specific to that tool) that can be repaired or would be either so complicated or time-consuming that buying the tool would prove impractical.
Although Chapter 8 is a general description of tool sharpening, any special sharpening problem encountered with a particular tool is discussed in its specific chapter. And, finally, no discussion of the tool would be complete without information on how to use the tool.
There are two basic sources of written information available to those interested in learning about secondhand tools. Both proved to be great help to me when I was learning about hand tools and woodworking by hand. The first is tool catalogues. As early as 1816 (when Smith's Key to the Various Manufactories of Sheffield was published), tool makers have published illustrated catalogues of their tools. Several pages from catalogues have been printed in this book.
The other source of woodworking written material is, of course, woodworking books. For centuries enterprising woodworkers have been publishing books explaining the how-to of their craft. However, there is one essential difference between the books written today and those written in the latter part of the nineteenth century and the early part of the twentieth. The earlier books show how to work by hand, using hand tools.
In the bibliography, I have listed the names of some tool catalogues and woodworking books available in reprint. If you find that you enjoy working with second-hand tools, perhaps you should read some of these.
A few terms appear throughout this book that should be clarified here. The words iron and cutter have the same meaning and are used interchangeably. Tuning refers to all the processes needed to prepare a tool for use. Sharpening and adjusting are part of this process. For example, flattening the sole of a plane and beveling the underside of a drawknife would be considered part of the tuning process. Both old and new tools have to be tuned before they will give you their best performances.
Reconditioning (or restoring) is only done to second-hand tools. This process includes cleaning, as well as making repairs and replacements. After a second-hand tool is reconditioned, it still has to be tuned.
While I am on the subject of terms, I have to address two that have become current in the past decade: they are molder and smoother. These words are gaining traction as a substitute for the original words molding and smooth/smoothing planes. In all the reading I have done I have never seen these terms before. They have no legitimate antecedent and are of recent origin. Woodworking has a long and honorable tradition that I think we should cherish and maintain. It is incumbent on every generation to respect our traditions, to preserve and pass them on, and not alter them either by error or on purpose. Therefore, I refuse to use these words and urge you to do the same.
— Michael Dunbar
Click on the link below for a free download of Chapter 4: Selecting the Proper Tool
SelectingProperTool
And don't forget to leave a comment – that's all you have to do to be entered to win a free copy of "Restoring, Tuning & Using Classic Woodworking Tools," by Michael Dunbar.