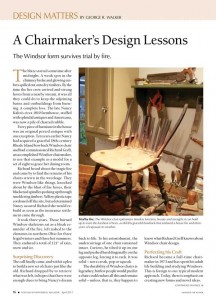 In his April 2013 Design Matters column, George R. Walker introduced to our pages the work of Windsor chairmaker Richard Grell, and shared the fascinating story of how a devastating fire and its aftermath proved the enduring strength of the Windsor form. (Download and read that article here: A_Chairmakers_Design_Lessons.)
Today, I received a press release announcing that Grell has added new classes – a hoop-back Windsor chair, aged-paint finishing and a child's hoop-back Windsor chair – to his offerings at the R. Grell Woodworking Workshop in Hudson, Ohio (about 30 miles southeast of Cleveland).
If you want personal instruction on Windsor chairmaking but you're located in New England, consider a class with Mike Dunbar at The Windsor Institute in Hampton, N.H. or Peter Galbert in Sterling, Mass (but you'll also find him at Marc Adams school of Woodworking in Franklin, Ind., this September, and at Woodworking in America in October). In the South, you many find Curtis Buchanan's Jonesborough, Tenn., studio more convenient – and in the deeper South, try The Woodwright's School in Pittsboro, N.C., where Elia Bizzarri is a frequent instructor. In the West, check out the Port Townsend School of Woodworking in Port Townsend, Wash. (though you'll have to wait for 2014) and the Northwest Woodworking Studio in Portland, Ore. (where it appears there's one spot left in Elia's August class). And I'm sure I'm missing a lot of teaching resources – please add them in the comments!
Why am I writing about Windsors? Well, we'll soon have some exciting news on that front that I'm itching to reveal…but can't…yet. And, my dining room chairs are rickety, uncomfortable and don't fit my style (sorry mom), so I'm thinking about jumping head first into chairmaking, and trying my hand at a sack-back or fan-back version. Though I may settle on a Welsh stick form instead; I just can't decide. Anyway, I have chairs on the brain.