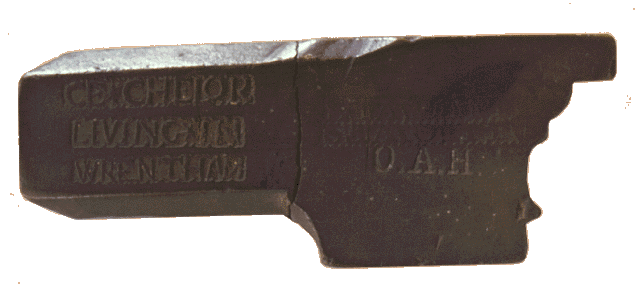 Picture from Joel's website (linked below)
When I first began collecting antique wooden planes, the name Cesar Chelor was an oft told inside joke. Chelor was a mid 18th c planemaker. He was owned by New England planemaker Francis Nicholson. When Nicholson died in 1753, he freed Chelor, providing him with land, and tools.
"As to my Negroman Caesar Chelo[r] considering his faithful service, his tender care, & kind & Christian carriage I do set him free to act for himself in the world & I do will and bequeath unto him his bed and beding, his shift and clothing, his bench & common bench tools, a set of chisels, one vice, one sithe & tackling & ten actes of land to be set of to him at the end of my woodland…¦& one third part of my timber."
From Joel's website (thanks Joel)
Chelor continued making planes, stamping them with his own name. Today, these rare planes are among the best known and most valuable antique wooden planes on the market. A single plane can be worth thousands of dollars. Finding one among a box of dirty planes with rusty irons is the hope of every collector. They are the proverbial diamond in the ash can. Collectors often joke that they bought a box of duds for $5 only to find a Chelor (gloat gloat). Or that uninitiated collectors who got some woodies in a box lot with a crispy (good condition) Stanley 45 should send all those marked "Chelor" to famed internet tool dealer Todd Hughes, who will know how best to dispose of them (selling them for thousands of dollars).
For this reason, Chelor deserves the honored top billing for Woodworking Black History Month. The story of his bondage, freedom, and subsequent business success is such an American tale. The best part about it is that it reminds us that Black History is really American history. Chelor deserves the attention he gets because he reminds us that a hard working woodworker can overcome any adversity.
To learn more about Chelor, google him or start here at my friend Joel's website.
Adam
P.S. Note the use of the term "shift" in Nicholson's will. I believe this was the word used for the long (often unisex) shirt worn by people of the 18th c and before. I've used this term before and had people look at me funny. Not sure when "shirt" took over for "shift".
---
Product Recommendations
Here are some supplies and tools we find essential in our everyday work around the shop. We may receive a commission from sales referred by our links; however, we have carefully selected these products for their usefulness and quality.