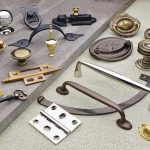 The right hardware is as important as wood selection and finish.
by Orion Henderson
pages 54-55
Not too long ago, I was approached by Megan Fitzpatrick about writing an occasional feature on hardware in the magazine. After a solid three minutes of thought, I jumped at the idea. Hardware is something that a lot of woodworkers have questions about – and I can help out with that.
Why does hardware matter? Well, you spend countless hours getting the joinery and finish as perfect as you can make it. Whatever you are building – whether a keepsake chest for a small child, a jewelry box for a family member or a tool chest for yourself – your pieces are your masterpieces. Yet for some reason, when many woodworkers come to the very end of the project and have to make a choice on the hardware, they end up at a big box retailer.
Just as you wouldn't go to Sears for tires on a Ferrari, I propose that you shouldn't put lousy hardware on your masterpiece. Choose quality for your hardware the same as you do for your other materials.
Hardware Considerations
There are three components to hardware: Design, materials and finish. I am not sure that any one of those attributes is more important than the other…but I am quite sure that each one has to be done right or the others don't matter. (I'll be devoting future columns to these topics so you can make sense of what's what.)
Quality hardware is available from a number of places – but it's likely not available at your local big box retailer. A bit of digging will uncover a variety of small companies that make exceptional hardware – both decorative and functional – to suit virtually any woodworking. Each company likely will have its own niche and expertise, so you need to find the companies that make hardware for your style of projects and personal aesthetics.
Article: Learn how to install knife hinges.
Article: Learn how to install a half-mortise lock.
Article: Learn how to install hinges in mortises.
From the August 2016 issue, #226