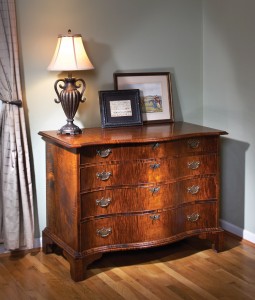 Expand your casework repertoire with a curvaceous front.
By Glen D. Huey
Pages: 28-35
From the February 2012 issue #195.
Buy the issue now.
One of the most interesting aspects of a serpentine chest, with its front concave at the ends and convex in the center, is how the wood grain changes as the curves undulate across the front. A drawer front that begins as a piece of flat stock presents three distinct areas after shaping. The grain in the concave sections displays an "X" pattern, while the grain in the center section forms a circle. The patterns highlight the curved front to give the chest a more distinctive appearance.
* In the cut list for the Serpentine Chest, the drawer fronts were incorrectly listed as 1 -3/4″ thick; the correct thickness for each drawer front is  2-3/4."
MODEL: Click here for the SketchUp model of the Serpentine Chest.

VIDEO: See Glen use a router setup to remove the bulk of the waste from dovetail sockets.
MORE VIDEO: Discover the treasures of 42 diplomatic reception rooms at the U.S. Department of State building in Washington, D.C., home to a fabulous collection of American antiques.
IN OUR STORE: "Building 18th-Century American Furniture" by Glen D. Huey – an extensive collection of project plans of the author's favorite furniture pieces. Also, Glen's video, "Cheating at Handcut Dovetails."
From the February 2012 issue #195.
Buy the issue now.