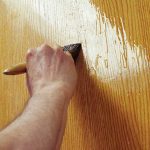 Solutions for common situations, from softening edges to stripping.
by Bob Flexner
pages 66-68
Here are 10 tips and tricks you might use to both speed your finishing and get better results. I've arranged them in the rough order of typical finishing steps.
Soften Sharp Edges
Machining wood leaves edges sharp. Always soften them with several light passes of medium-grit sandpaper before applying a finish. Film-building finishes can peel away from sharp edges if they aren't rounded over a little, and sharp edges get damaged more easily than softened edges.
Apply Stain
The most efficient methods of applying stain are by wiping or spraying. Brushing is very slow, often too slow with lacquer- and water-based stains that dry rapidly.
When you have thoroughly wetted a surface with the stain, quickly wipe off the excess. With fast-drying stains, try dividing large projects into smaller sections to give you enough time, or get someone else to apply or wipe off.
(For more, please see the October 2017 issue.)
Twitter: Follow us on Twitter @pweditors.
In Our Store: Want to learn to cut strong dovetails? Check out our Dovetails eMag.
From the October 2017 issue, #234