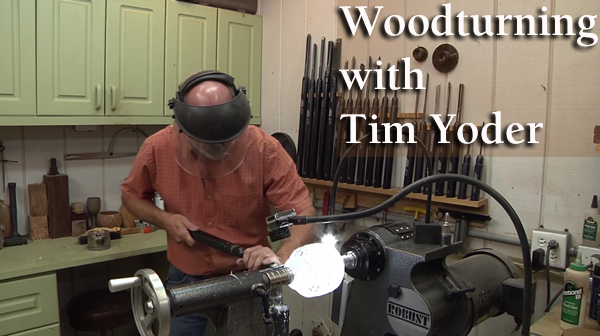 The newest "Woodturning with Tim Yoder" DVD is here, and season three is shaping up to be a good one. Tim has a lot of great projects, and I find myself learning new skills and techniques with each new episode.
In both the Lichtenberg Fractal Burned Vessel and Cosmic Clouds Platter episodes, Tim steps away from the lathe (after the project is turned, of course) to show viewers how to make stellar additions to their wood. Lichtenburg fractal burning (or Lichtenburg pyrography) is the process of using electricity to etch designs in wood. The technique is growing in popularity, and luckily for me, I have a few woodworking friends who practice this art. I've experienced it in person, and it's a beautiful process to watch. Tim's visit to ArcWork certainly shows the detail fractal burning can addto a piece.
My head also turns in awe at the methods Tim uses to add color to pieces. It is a topic I've been reading up on as of late, and you'll understand why when you see the process for yourself. Tim admits he's no expert at using iridescent paint on wood, but with the help of his friend Gary Lowe, he's able to make picturesque painted platters with ease. I am eager to get out in the shop and try this for myself on a project. It's nice to see Tim become the student and learn new skills alongside him.
Watch the preview below and check out "Woodturning with Tim Yoder Season 3, Ep. 1-6" in at shopwoodworking.com today.
---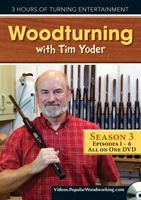 Woodturning with Tim Yoder teaches you valuable turning techniques while creating great projects. Whether you're new to turning or looking for ways to build your skills, Tim will make it fun!