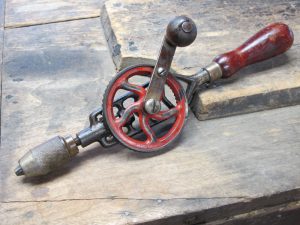 Vintage hand drills – sometimes called "eggbeater drills" – are common, useful and easy to fix up using stuff you already own. You can buy hand drills all day long on eBay and never deplete the world's supply because they were in every homeowner's toolbox.
When I buy a hand drill, I don't pay much attention to brand names or model numbers. As long as it's not some modern plastic piece of junk you'll be OK. Instead, the following are the hallmarks of the drills I avoid.
1. If the drill has missing teeth on its wheel or drive gear, pass. Immediately.
2. If the chuck is missing a jaw or the jaws don't retract when you open the chuck, pass. While there are some chucks that were made without spring-loaded jaws, they are fairly annoying in use.
3. If the main handle wobbles, one of two things has happened: Either the iron frame inside the handle has cracked (rendering the drill junk) or the handle is wallered out and you need to turn a new handle (merely annoying).
4. If the iron frame of the drill is cracked or missing pieces, flee away mindlessly. In fact, if the drill is missing any significant bits, such as the crank, you have to buy a second drill to scavenge parts. Keep looking.
I usually end up paying $20 to $30 for a decent drill on eBay – usually a little less. I fix them up and end up selling them to my students who fall in love with them. So I buy another and fix it up. This morning I fixed up a Goodell-Pratt drill that I bought off eBay for $20.
It looks rough, but all the parts are there.
First order of business: soak the chuck in penetrating oil to loosen it up. Let it drip dry while you turn to the rest of the drill.
Disassemble the frame. Clean out the frame's oil ports using a pointy nail or the tip of a compass. These get gunked up and actually slow the quill. Then lubricate the quill through the ports with a light machine oil. Remove the gunk between the teeth of the gear of the quill using a toothbrush and some lubricant.
Remove the gunk from the post that the main wheel spins on. I use an abrasive handblock or steel wool. Lubricate the post with oil or a little grease. Re-assemble the frame.
Return your attention to the chuck. Work the spring-loaded jaws of the chuck by pressing the chuck against a nailset or dowel. Add some lubricant and keep working the mechanism until the jaws snap open and shut with ease. Clean off the threads on the quill with your toothbrush. Screw the chuck back on and get to work.
— Christopher Schwarz