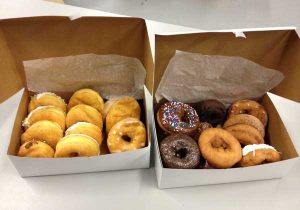 We're in the shop today and tomorrow (Saturday and Sunday) with a group of 10 visiting woodworkers to film a video on making a tricky three-legged Chinese Stool (long-time readers might recall this project from the Winter 2009 issue of Woodworking Magazine).
The stool looks simple to build – but it's not. The center mortise-and-tenon joints all come together at angles, and have to go together simultaneously for everything to work. It's an excellent exercise in layout and angled joinery. So, we decided to film this one with a group of folks so that Bob Lang, who is teaching the class, could answer real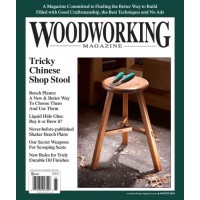 questions from those who are building the project, rather than trying to anticipate the challenges and address all possible questions from a first-person omniscient viewpoint. And, sometimes it's just fun to get in the shop with a bunch of people. And of course, it's an excellent excuse to have on hand the most important tool in our shop (at least early on a Saturday morning) — doughnuts.
This video is scheduled to be available in February of 2014.
We have some other video shoots and DVD releases on the schedule (in addition to the release of more classic seasons of Roy Underhill's "The Woodwright's Shop" on DVD), including "Super-Tune a Backsaw" with Matt Cianci and "Build a 2-Day Workbench" with Christopher Schwarz.
But, we've still some slots booked in the video studio that aren't yet earmarked for topic. So tell us in the comments below what you want to see – and we'll do our best to deliver. Heck, if the topic is right, we might invite you to come work with us; I'll bring the doughnuts.