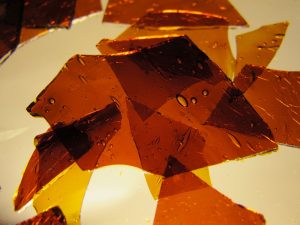 For me, shellac is a lot like grits. When prepared correctly from quality materials, the results are stunning. But if you buy your grits or shellac already made up, or they are old, or they aren't top quality, you are going to wonder why people rave about the stuff.
I've never had satisfactory results from pre-mixed shellac. And I've had mixed results from flakes that were of an uncertain age.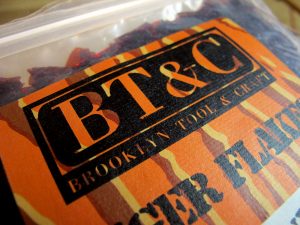 Recently I started using shellac flakes sold as "BT&C Tiger Flakes" from Tools for Working Wood. You can get these flakes directly from Tools For Working Wood in Brooklyn, or at some retail specialty stores, such as Woodcraft.
These flakes are incredibly fresh, dissolve easily in alcohol (read here for a discussion of alcohols) and dry hard and clear. This shellac really is nothing like the pre-mixed stuff, which can be old and have wax in it that makes it difficult to add a top-coat finish over the shellac (if desired).
These flakes are dewaxed, so lacquer or varnish can be applied over the shellac with no worries. As always with shellac, thin coats work best. I like to spray it on, though it can be brushed or ragged on, which is more traditional.
If you have been frustrated with shellac in the past, it's worth one more try with the Tiger Flakes. (Oh, almost forgot: As always, I bought this stuff myself. I don't take bug excretions – or tools – for free. Period.)
— Christopher Schwarz
If you are new to finishing, there is one book I recommend to get you started: "Wood Finishing 101" by Bob Flexner. It's only $12.50 in ShopWoodworking.com.