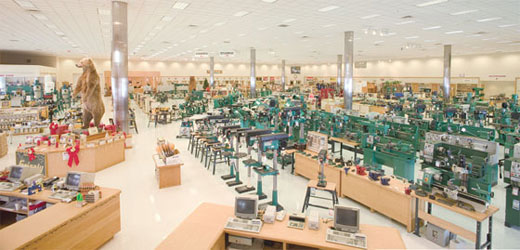 If you have occasion to travel on I-80 through Pennsylvania or you are in the vicinity of Muncy, Pa., then I highly recommend stopping at the Grizzly showroom. The facility is 430,000 sq. feet of metal and woodworking tools, sculpture, a stuffed grizzly bear and other grizzly bear statues, and a Koi pond.
My wife bought me one of their guitar kits last year, but unfortunately, someone lifted the neck out of our shop.  I was hoping to pick up a new one, and I also wanted to  check out a few pneumatic tools.
I was on a mad dash to get back to Rhode Island, so I didn't have a lot of time to spend, but I plan on stopping back. Even so, while I was there, the customer service was excellent, the showroom was clean and well organized, and I picked up a few tools at a great price – time well spent.