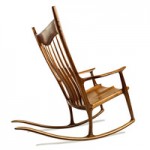 Shannon Rogers, who runs The Renaissance Woodworker blog, The Hand Tool School and is one of the three hosts of WoodTalk Online (along with Matt Vanderlist and Marc Spanguolo), has been busy interviewing many of the speakers who will be presenting sessions at Woodworking in America 2011 (register now – the Early Bird deadline is this Sunday!). And as he gets the podcast in the can (so to speak), he's posting them on his site for your listening pleasure and edification.
Thus far, Shannon has podcasts up from Mike Siemsen (the clever and funny fellow behind the Hand Tool Olympics – about which I'll soon be writing more) and chairmaker extraordinaire Charles Brock. (At WIA 2011, Charles is teaching, among other things, "The Maloof Leg-to-Seat Joint" and "Sculpting by Hand and by Power,)" Plus, if you go to the "WIA Highlights" page at Shannon's site, you'll find these new posts as well as video clips from past WIA conferences.
Shannon has already spoken with a number of our presenters, and he'll have all those podcasts up soon – so keep at eye on his site (and on our WIA2011 Facebook page) for updates. And register by Sunday, Aug. 14, to save $40 (that's money better spent in the Marketplace!).
p.s. You can build the rocker pictured above with "Build a Maloof Inspired Rocker with Charles Brock" – a DVD, book and full-sized plans, plus online support from Charles, are all included. And check out "Build a Maloof Inspired Low Back Dining Chair with Charles Brock," too (also with a step-by-step DVD, books, plans and online support).
p.p.s. I typed "podcats" three times above…I think "podcats" should be a geek version of LOLcats.