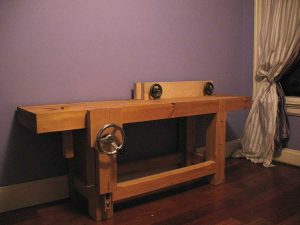 In our eMail newsletter, I wrote that I was finally taking home my pine "petite Roubo" (which is basically the same bench featured on Christopher Schwarz's video "Build an 18th-century Workbench"). I thought, because it's white pine, and only 6′ long, 28″ high and 18" deep, that it wouldn't be too much trouble to get it up the staircase to my second-floor study (and soon to be also my hand-tool workshop). After all, my dinky little bench was the lightest one in our shop by far.
But moving a bench around on a flat, concrete floor and lifting it 4′ in the air to clear the newel post and bannister, and making two turns at the landings, well…I owe a couple strong neighbors a thank you gift. I was no help whatsoever. (I did work up a sheen moving a bookcase and its contents to the third-floor guest room to make room for the bench. I'm not completely useless.)
I've got the leg vise back in place, and sitting on top is my new Benchcrafted Moxon vise (about which I've written a review for our November issue Tool Test, but in short, I love it). I still need to install the old Sheldon quick-release vise I bought on the right end and bring home my bench dogs and holdfasts. And my tools.
I think my first project best be some tool storage. While I have plenty of shelves on the other side of the room, they're packed with critical theory books and compendiums of early modern drama…oh right…maybe I'd best put that little dissertation project atop my "to do" list. Nah. A tool chest seems like a lot more fun – and a lot less work.