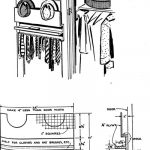 This evening, I whiled away an hour leafing through "The Wise Practical Home Furniture Builder: Simple Plans for the Amateur Craftsman," a book from 1952 that is similar to the I Can Do That series of beginner projects (a small set of tools, and pieces that are simple to build).
I don't particularly want to build any of the designs in this book, but they intrigue me – perhaps because they are so very much "of a period," rather than what we typically think of as "period furniture." Every piece in the book looks as if it would be at home on the set of "Mad Men"; I prefer designs that would look at home on the set of "The Tudors."
I wonder if, 60 years from now, anyone will leaf idly through a yellowing, fragile copy of our ICDT book and think, "Wow – these projects are so very clearly 'of a period.'" And maybe, by that time, the 1950s look will be considered "period furniture" instead. And perhaps every home in 2072 will again need a Hat Holder in every closet.