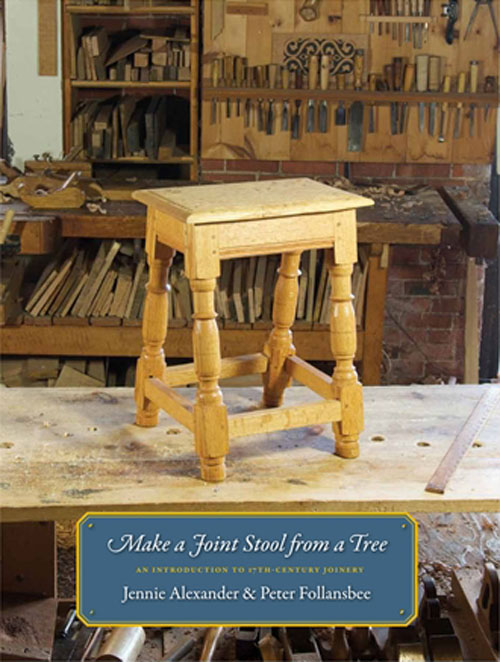 We've just added to our store what I think is one of the most important woodworking books I've seen in some time: "Make a Joint Stool from a Tree: An Introduction to 17th-century Joinery," by Jennie Alexander and Peter Follansbee (Lost Art Press).
Sure, given my interest in all things early modern, I'm partial to this particular form of furniture that was ubiquitous in the 16th and early 17th centuries. But the book is more than a step-by-step approach to building a joint stool – though it is that, and imparted so clearly that the stool is a project a beginner could tackle, from tree to finished piece. The book is also a labor of love for its authors, who have been collaborating on this book for more than two decades. (And the way it happened is a great story – but not one that I'm going to give away here; it's in the book's introduction.)
Perhaps more important though, what they've dug up about joint stools in their research into the few extant written sources and from examining the furniture also impacts our understanding about how most of the furniture in the period was built – and just how sturdy those pieces really were…and are. After more than three centuries, many period pieces have joints that are as solid today as the day they were constructed. And that's a lesson we can use in what we build today, no matter the style.
It's also simply a lovely book. It's the first oversized (9″ x 12″), full-color book from Lost Art Press, and is printed in the U.S. on acid-free paper with a sewn binding, covered in navy cloth with a full-color dust jacket. You can read more about it, and order your copy, in our bookstore.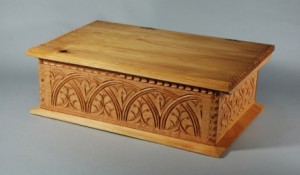 Another project suitable for introduction to early modern pieces (OK, OK – Elizabethan, or Renaissance…I hope none of my literature professors are reading this) is an oak Bible Box, like the one shown at right – even with the fancy carving. Especially if you have Peter Follansbee to teach you in person. And there are still a few spaces available in the four-day Bible Box/Valuables Box class Peter is teaching from April 17-20 at The Woodwright's School in Pittsboro, N.C. (Click on the link above, then scroll down to "Four Day Workshop" in the right-hand navigation bar.) As in the joint stool class I took from Peter last year, you start with a log and end up with a project. (Or in my case, a still-almost-finished project….)
And finally, while we have an excerpt of "Make a Joint Stool from a Tree" in an upcoming issue of Popular Woodworking Magazine, it will be only five pages. And there are 128 pages in the book. I can't recommend highly enough that you add it to your woodworking library. (I also can't recommend highly enough taking a class with Peter – especially when you also get to hang out with St. Roy.)