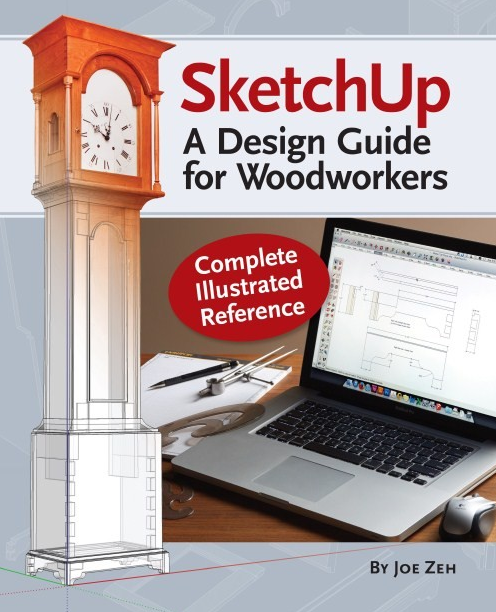 SketchUp is a fantastic design tool for woodworkers. It can also be a bit intimidating. My first time working with the program involved drawing a few odd shapes trying to get a grasp of the tools. A few clicks later I found myself wondering what on Earth was going on. My test sketch had panels sticking out everywhere and looked more like the International Space Station than a piece of furniture.
Later I got a glimpse of just how powerful the program could be as I analyzed drawings during a book edit. I saw how many different views of a build were possible and how you could move parts around – it was an eye opener. I've learned a bit more with the help of a couple of colleagues and also with the help of Joe Zeh's fantastic reference "SketchUp: A Design Guide for Woodworkers." My knowledge of the program is absolutely just the tip of the iceberg, but I've learned enough to know that it's a great tool for working out your furniture designs before spending money on your materials.
If you like the idea of having detailed models of your project before you set foot in the shop, then SketchUp might be for you. And Joe's book is a great place to start. It's an incredibly comprehensive reference that covers everything you need to know to use SketchUp for woodworking. You'll learn how to use SketchUp's wide array of tools – and how to configure the program so that you get the most functionality for woodworking. You'll get specialized instruction for creating the complex shapes needed for furniture design.
There are plenty of SketchUp guides available, but this one is written specifically for woodworkers. The author is an engineer and a lifelong woodworker so he brings both his knowledge of 3D drawing software and his experience as a woodworker to the table in his instruction. The book is set up as an entire course on SketchUp that teaches how to use the program and its tools and then walks you through the design of several furniture models. If you are at all interested in trying SketchUp (or if you've tried it and gotten frustrated), I encourage you to check out "SketchUp: A Design Guide for Woodworkers" (available now at shopwoodworking.com or from your favorite bookseller). If you'd like to have detailed plans before you set foot in the shop, the program is worth your time and this guide is a great tool to help you learn it.