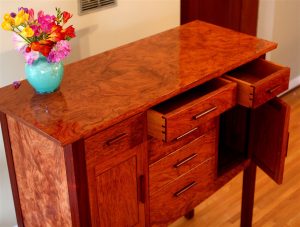 Congratulations to Tom Buhl of Santa Barbara, Calif., for winning the first JPEG Wars at Woodworking in America 2011! Tom won with this picture of his bubinga sideboard, which he built in 2009. Thanks to the generosity of Robin Lee, president of Lee Valley & Veritas, Tom's prize was the new Veritas Small Bevel-Up Smooth Plane.
Interestingly, Tom has been working in the communications and graphics field, as well as writing travelogs, but he has only been working with wood for the last five years. Click here to check out Tom's web site, where he has some great step photos of building the project.
I want to thank everyone who submitted work to the JPEG Wars. While the venue might have been a little too loud to talk about the individual images, it was great to see so many enthusiastic makers willing to show off what they have been working on. I look forward to seeing even more images submitted for the next JPEG Wars.