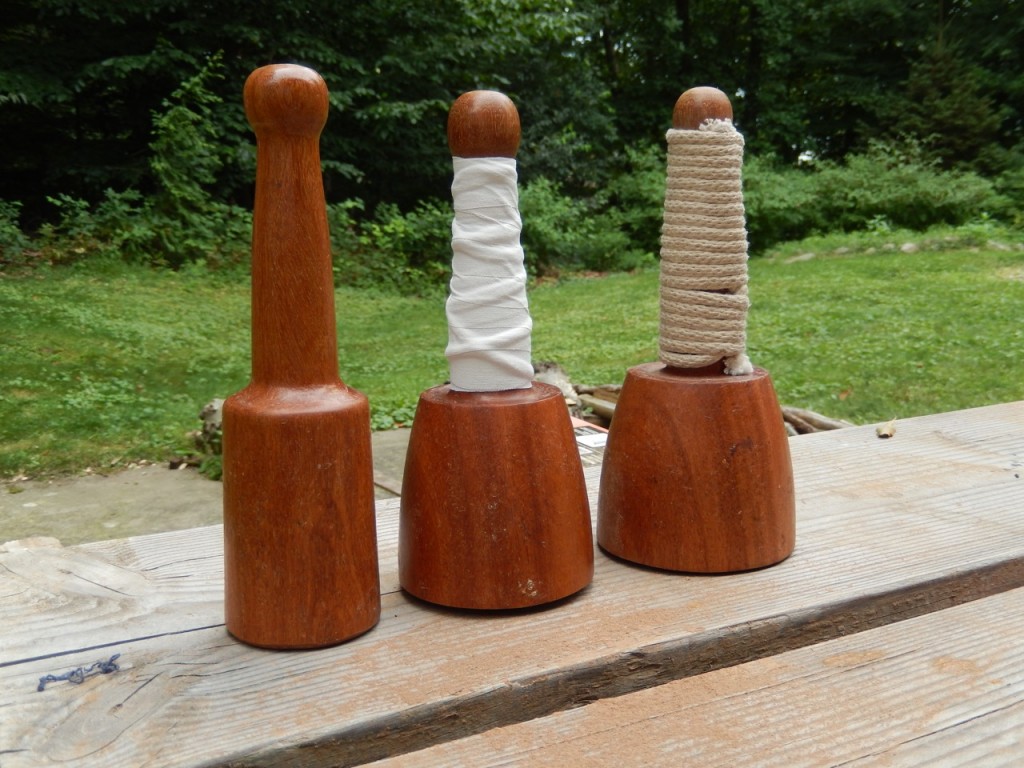 I use round-head mallets almost all of the time. I find that they are very effective in driving my gouges and chisels decisively into the wood. There are cases where I prefer to use rectangular-head hammers and mallets, but most of the time I reach for one of my "rounds."
I bought my first rounds from William Alden back in 1998. They were turned from hard tropical wood and their conic handles culminated in a rounded pommel. After using them for some time, I concluded that the handles were a bit thin for my hands so I decided to wrap a sash rope around them in a "common whipping" configuration. This minor change drastically improved their comfort level.
In recent years, I discovered a novel product to thicken up the handles and provide a very secure grip – hockey tape. I got my tape at a local sports store for $7.99 (for a package of three) and learned how to use it after watching a YouTube video (links provided below).
If you think about it, the hockey tape can be used to thicken up and enhance the grab on other woodworking tool handles too, such as knobs and jigs. In fact, you can change the shape of any handle to better fit your hand by wrapping tape around it. For example, if you begin by wrapping more tape at the middle of the handle, then continue to wrap the handle from top to bottom, you will create a football-shaped handle that corresponds to the natural anatomy of the hand.
By wrapping some tape, trying the handle, then adding more tape as needed until the right feel has been reached, the tape becomes the most effective agent of ergonomics in your shop. And because it is made of cotton/polyester fabric, I believe it can absorb sweat and reduce the tendency some tool handles have of becoming slippery. The adhesive used on the tape is intended to provide good traction to the handle material, yet it is not a permanent adhesive, meaning it allows the tape to be removed as needed and replaced as needed.
Next time I will talk about mallet geometry and my experiment to produce the best mallet for my needs.
To learn common whipping:
To learn how to use hockey tape: