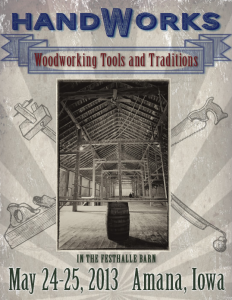 Early tomorrow morning, I'm traveling to Amana, Iowa, with Christopher Schwarz, John Hoffman, Ty Black and Andrew Lunn for the May 24-25 HandWorks: Woodworking Tools and Traditions event. But first, I'm upending all the couch cushions, checking my old purses and scrabbling under the car seat to see how much loose change I can dig up. (The last time I did this, all told, I came up with almost $190 in change…mostly from the depths of my old purses – my couch and car aren't quite that messy. Quite.)
Exhibitors expected at the show are: Benchcrafted, Blue Spruce Toolworks, Blum Tool, Brese Plane, Brian Buckner (I'm quite excited to hear more about his planemaking future – rumor has it he may jump into the business full time; I don't have a web address for Brian, but you can read about him in this article on exotic infills), Bridge City Tool Works, Czeck Edge Hand Tool, Daed Toolworks, Elkhead Tools, George Walker Design, Hamilton Woodworks, J. (Jeff) Miller Handcrafted Furniture, Knew Concepts, Lie-Nielsen Toolworks, Lost Art Press, Andrew Lunn/Eccentric Toolworks, M.S. Bickford, Mike Siemsen's School of Woodworking, Old Street Tool (I'm also looking forward to catching up with Don McConnell and Larry Williams; they're not traveling much anymore, so this is a rare opportunity!), The Superior Works (though I'm not sure Patrick Leach is able to make it), Sauer & Steiner Toolworks, Scott Meek Woodworks, Tools for Working Wood, Veritas Tools, Vogt Toolworks and Don Williams.
In other words, it's pure hand-tool Mecca.
It's a great opportunity to talk with all the makers, try out their tools and hang out with like-minded folk (and their families – I hear many people are bringing kids and partners along). Plus, there's a special presentation by Don Williams, Chris and Narayan Nayar on their work for a forthcoming book on the H.O. Studley tool chest (Narayan says he's going to auction off the "woobies" they used to wipe down each tool as they were removed from the chest for photos. I don't believe him.)
Woodworking aside, Amana Colonies sounds like a cool place to visit; it's a national historic landmark comprised of seven villages settled in the mid 1800s by members of a German religious society; it functioned as a commune until 1935. Today, there are many craft shops, German restaurants, cheese makers (another reason I'm very much looking forward to it), wine makers, breweries…
I expect it will be a rollicking good time (assuming I survive the 8-hour trip there in a car with four men). I'll be sharing photos and stories on the blog, and no doubt I'll be tweeting pictures and pith (@1snugthejoiner and/or @pweditors) during the event.
HandWorks hours are 10 a.m.-6 p.m. on Friday, 9 a.m.-6 p.m. on Saturday. Admission is free (though donations will be accepted).
Hope to see you there!
p.s. If you can't make it to Amana – or even if you do make it to Amana – you'll be able to catch up with many of these fine folk at Woodworking in America (as well as other hand- and power-tool makers/manufacturers, plus learn from some of the best woodworking instructors in the business in the 50+ educational sessions). Registration is now open.