Glazing is easy to do, and it can add a lot of decoration to furniture or woodwork. In the case of the corner chest pictured, glaze is used to highlight the detail of the moldings and carvings. The glaze emphasizes the three-dimensional effect.
The process is simple. First, seal the wood's surface with one or two coats of finish – any film-building finish. You can apply stain under these coats if you like. Then brush or spray on the glaze. For this step it's best to use a special glazing product labeled "glaze." On smaller projects you can use a gel stain, which is similar, but it dries considerably faster than glaze giving you less time to selectively wipe off. You can also use stain. It will just be more runny and difficult to control.
Before the glaze dries, wipe it off all the raised surfaces, leaving it only in the recesses. If the glaze is drying too rapidly, as could happen on a large, highly complex piece, get someone else to help. You can also use steel wool or an abrasive pad instead of a cloth after the glaze has dried. But the effect will be a little different.
With an oil-based glaze, which provides much more time for manipulating than water-based glaze, you can usually remove what you have done if you don't like it with mineral spirits (paint thinner) or naphtha for quite some time if there are problems; then you can start over. On a large, complex surface, water-based glaze would be difficult to use successfully.
Finally, after the glaze has had time to dry, apply at least one more coat of finish to keep the glaze from being rubbed off, and also to bring out the full color contrast.
— Bob Flexner

---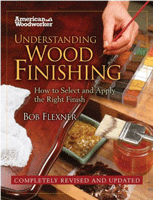 Don't miss Bob Flexner's "Understanding Wood Finishing" at shopwoodworking.com.