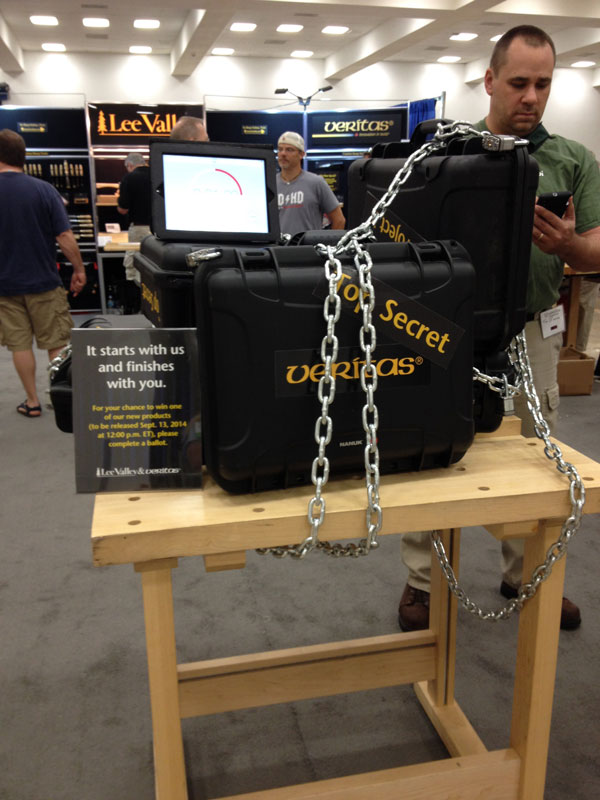 As a crowd gathered 'round the Lee Valley Tools booth at high noon on Saturday, Sept. 13 at Woodworking in America 2014, Robin Lee, president, unlocked the chains and opened the cases to reveal a project the company has been working on for more than two years: five new Veritas "customizable" bevel-down planes (Nos. 4, 41⁄2, 5, 51⁄2 and 7 in the Stanley numbering system).

I got a preview of what the company is calling Custom Bench Planes at Lee Valley Tools in Ottawa in August, but thus far, I've only taken apart and partially reassembled one of the planes; I'll post a thorough review when we get them in.
The planes will be stocked in three standard frog angles – likely 40°, 45° and 55°. You can, however, order any frog angle from 40° to 65° in 1⁄2° increments (the frog and the Norris-style adjuster were redesigned to support the range of 51 available angles) for a $10 upcharge and with just a couple days' wait. And the frogs are easily interchangeable; you can switch them as needed for various planing needs.
In addition, the "torrefied" (roasted) maple totes and knobs can be changed. Totes are offered in two styles: a standard Veritas handle or a traditional Stanley curved style; both are available in small, medium or large. (There is information online and in stores about how to determine the correct size for the user, as well as to help you determine the frog angle or angles for your needs.) The knobs are available in three
styles: low, high and mushroom-shaped.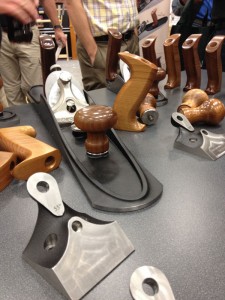 The ductile iron bodies and stainless components feature a streamlined shape, and there are fence-mounting holes on all the bodies. There's an adjustable toe to set the mouth openings and, because a "blade carrier"supports the O1 or PMV-11 iron, the tools can be used with or without a cap iron.
Prices range from $269-$389 (not including the upcharge for a custom frog angle). For more information, visit leevalley.com.