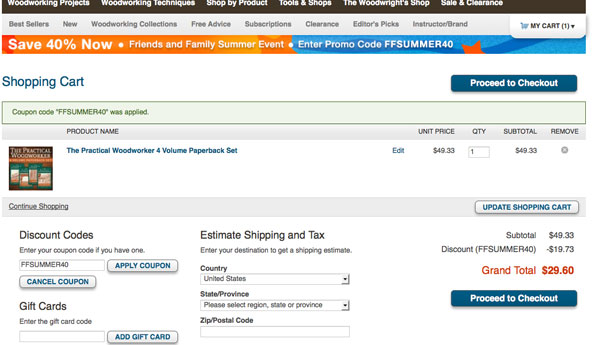 OK…I've been tasked with letting everyone know that through Sunday, we're running a 40-percent off, "Friends and Family Sale" at ShopWoodworking.com (and all other FW Community online stores: WritersDigestShop.com; NorthLightShop.com (art in all mediums), MyDesignShop.com (graphic design); and many more – you can find the full list on our corporate site at fwcommunity.com).
The savings code is FFSUMMER40 for all the stores (enter that code in the "Coupon" box at checkout to see the discount). As far as can tell (to be fair, I only spot-checked), most of what was produced in house is included (items we offer from other publishers are not).
Anyway, I think it's kinda crazy. I mean…how am I going to feed my cats (or buy new windows and new HVAC…or bourbon) if we're charging only 30 bucks for "The Practical Woodworker" 4-book set?! And the brand-new "Mid-Century Modern Furniture?" Just $12.59. "SketchUp for Woodworkers?" $21. "Flexner on Finishing?" $15. "The Workbench Design Book?" As a digital download, $21; in hardcover print? A particularly insane $14.39.
So, er, if any of the above interest you (they're among my favorites), I'd appreciate it if you'd click on my title links. That way, my boss will know I did what was asked…and maybe I'll win a gift card for the most sales. With it, I might be able to afford a bag of cat food (were it enough to cover the HVAC…I'd be begging you).