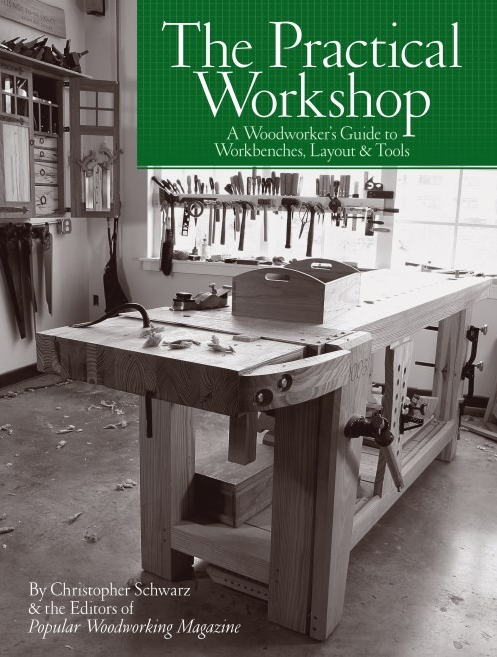 In this excerpt from "The Practical Workshop: A Woodworker's Guide to Workbenches, Layout & Tools," Christopher Schwarz discusses how the book can help you build your practical workshop quickly and effectively – so you can spend less time setting up your space and more time woodworking. 
---
Over the years I've seen some of the most incredible (and humble) workshops all over the planet. Human nature being what it is, it's easiest to remember the workshops that were nicer than my house. I've visited several shops where the woodworker had a couple thousand square feet of organized space, wood storage that was accessed by a remote crane and a library room dedicated solely to reading books and watching woodworking videos. I don't begrudge the woodworkers who build their dream shops. Every one of them earned their shops with hard work, determination and inspiration. But I am here to tell you that the quality of the furniture that comes out of a shop is entirely independent of the physical space in which it was created.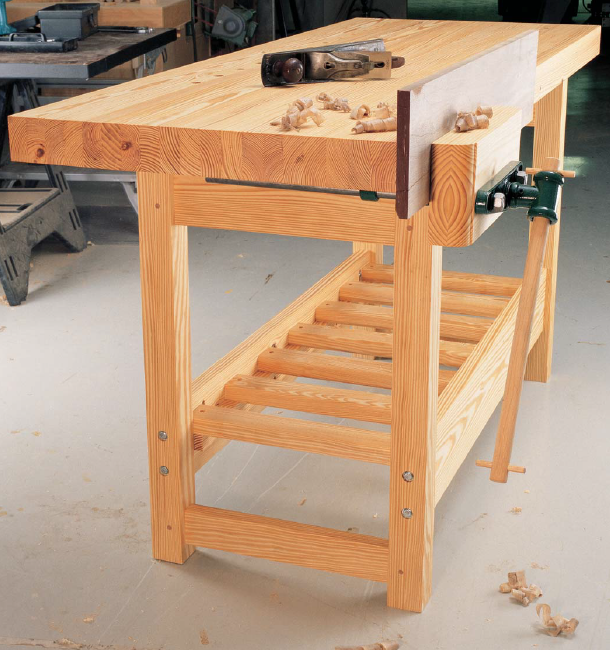 Yes, you need a good bench because it will make your life easier. But you don't need a French polished beauty that represents a tour de force of your woodworking skills. That fancy bench won't work any better than the basic benches used in production shops during the last 300 years. And so in "The Practical Workshop" we present two bench designs that can be built quickly using common framing lumber. These aren't slap-together designs you'll outgrow. They are based on hundreds of years of careful refinement by people who ate or starved based on their productivity.
We also present the basic "appliances" that will make your work at your bench a bit easier. Again, these aren't for jig lovers – they are simple devices that have proven themselves for hundreds of years. We apply that same practical philosophy applies to setting up machinery. Most woodworking shops have a few machines, and there are long-standing rules for how work should flow through the shop. And so placing your machines is one of the most important tasks for the woodworker. Finally, there's storage. You need it. If you don't get a handle on your lumber, your hand tools and even your nails and screws, then you will spend most of your shop time looking for your sandpaper, that bit of maple you stashed away or your No. 8 screws. And so a good portion of this book is focused on helping you rein in all the bits and pieces required for building furniture.
My own basement shop is based on the principles outlined in this book – heck some of the projects in this book are in use in my shop today. My shop is a pretty small space – 15′ x 20′ and I share it with the furnace and a lot of ducts and pipes. And yet I am able to turn out large pieces of work, such as a 10′ run of cabinets, with ease because my machines are arranged in a proper work triangle, my lumber is stored flat on the wall and all my tools and fasteners are within reach and well-organized. Do I wish my shop were nicer and bigger? Perhaps. It's difficult not to become envious of the dream shops we see in magazines and books. But does my shop have to be bigger or nicer to turn out chairs, cabinets, tables and beds? Nope. My shop works. And yours can, too, with the help of the projects and ideas in this book.
---
"The Practical Workshop: A Woodworker's Guide to Workbenches, Layout and Tools" by Christopher Schwarz and the Editors of Popular Woodworking Magazine is available now at shopwoodworking.com.