Glen Huey (pictured above), Chuck Bender, Bob Lang and I got the shop maybe halfway done in yesterday's frenzy of cleaning and reorganizing, but we did run into a couple problems. Neglecting to measure, for example. (Yes, we took the vise off, then had no trouble getting that bench into the storeroom.)
We moved the miter saw rack off the back wall where the garage door will go (soon, I hope), relocated a few of the more-easily moved machines to create a less cluttered route to the back of the shop, and hooked up proper dust collection as appropriate.
And we swept the floor…then swept it again.
The dumpster quickly filled up, so we planned to finish taking out the trash today and take a fresh look at what else we can reasonably do to make the shop work better for four people.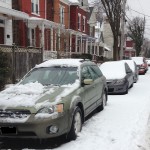 But the sky dumped a 1/2″ of ice and a couple inches of snow on Cincinnati (and much of the Midwest and East Coast) last night, so today, we're working from home (an e-mail that didn't come through until just after I finished digging out my car; I'd call that my exercise for the day, but because I didn't have to go into the office, I proceeded to shovel the sidewalk around my corner lot, and am now typing with frozen fingers).
So I guess we'll put that off until tomorrow.