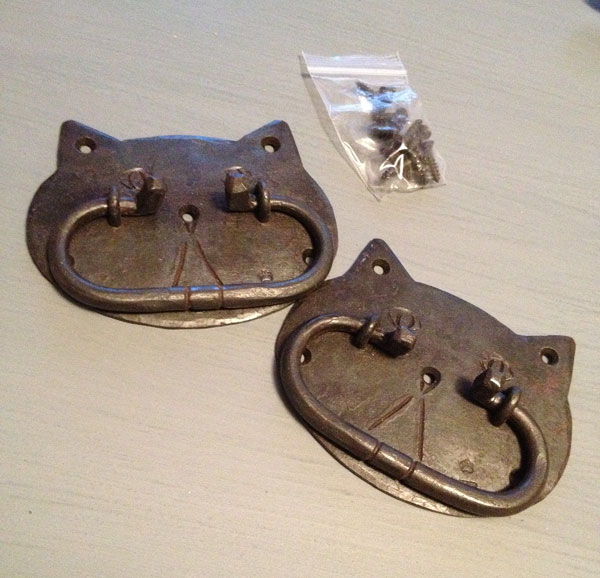 Hand-forged hardware is a great way to make your projects that much more hand made – and if you can work with a blacksmith to "personalize" the hardware, so much the better (in the right circumstances, of course – cat heads might look a bit silly on a Stickley cellarette).
The cat-head iron lifts above are on my tool chest. I'd asked John Switzer of Black Bear Forge to make me some lifts, and he said, "What about cats?" I said, "You can do that?! Yes please!!!"
John's wife, Janet, sketched a couple options and we settled on the above. I love them, and anyone who knows me (or knows anything about me), knows I have a cat thing. They're perfect for me.
And while hand-forged hardware costs a bit more than buying from a catalog, it's not always crazy expensive (it depends, like always, on what you want, and who is making it). The bigger challenge than the cost might be ordering far enough in advance so that when you're ready for the hardware, it's ready for you.
So how do you find a blacksmith? Well, I'm hoping we can crowdsource this. If you've worked with a smith you like, please put his or her name in the comments below; if we get a fair number, I'll start a directory on our site of reader-recommended smithies. And Peter Ross is atop my list – his work is simply stunning. I'm saving up for his crab lock to go with my Black Bear cat lifts.
p.s. If you want to learn a bit about smithing, we have several videos from Peter Ross and Don Weber in our store (as well as a few episodes of "The Woodwright's Shop") that might be of interest  (and a couple new videos coming soon from Peter).