Sorry but that article or project requires free site registration to access. If you're a member, remember where you were, Log In here and browse back to the same story.

Benefits of Free Registration
Access to commenting on blog posts
"I Can Do That!" Projects
Sketchup Models
A sneak peak at upcoming articles from Popular Woodworking Magazine
More communication with our dedicated and accessible editors, who are always willing to help
The e-mail sign-up box at the top of our homepage will magically disappear when you are logged in!
Already a member? Click here to log in
---
Projects YOU Can Do
Access to our "I Can Do That!" projects from the magazine. Beginners can build these projects, and anybody can benefit from them! Even intermediate and advanced woodworkers enjoy these quick and easy creations during spare time in the shop. Register for FREE!
---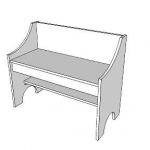 Sketchup Models
Our collection of models contains more than 200 free project models in SketchUp format. You can download any of them and view in Sketchup.
---
What's Your Opinion?
Have a question about one of the articles on PopularWoodworking.com? Want to raise a great point that might save a finger? You'll need to register to comment on our articles. Register for FREE!
---
FREE Downloads
Done registering? Great! Now that you've joined our online community you should also browse our "Free Downloads" section. Enter the same email address you used for site registration … and keep on building!