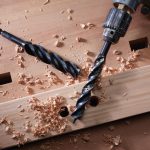 by Megan Fitzpatrick
page 18
From the December 2013 issue, #208
I've built a couple workbenches – and helped to build a couple more – and have drilled 3⁄4″-diameter holes for dogs and holdfasts variously by hand with a brace and bit, with an spiral-upcut bit in a router and with a combination of both (start with the router then finish by hand to make it through a thick benchtop). Well now I've a new favorite approach: Wood Owl "Nail Chipper" auger bits.
Christopher Schwarz was introduced to Wood Owl bits last summer by Jameel Abraham during a Roubo bench building session, and he waxed prolific to me about how great they were, and even posted a video (see below) – but I didn't truly comprehend how well these work until I tried one myself. And at just $15 for a 3⁄4″-diameter x 7-1⁄2″ bit, there's no reason you shouldn't try one, too.
This carbon steel, Teflon-coated auger bit's three precision-ground edges and lead screw help it bore though 6″ hardwoods in just seconds with a remarkably clean cut – though there's still a little cleanup on the entry and exit. (Also available are "Ultra Smooth" bits, which leave a cleaner hole, but a company representative tells me that model is best reserved for thinner stock and softwoods.)
The Nail Chipper also does exactly what the name implies – so it's a good choice if you work in reclaimed stock in which nails could be present, no matter what the species.
Made in Miki City, Japan, the bits are available in diameters from 3⁄8″ to 1-1⁄2″ in both 7-1⁄2″ and 18″ lengths.
The only drawback I found is that the 7⁄16″ hex shank doesn't fit in the chuck of many of our drills, and to provide enough power, a corded drill is by far the better choice. So while the bits I'd typically use in the shop are affordable, a new drill could be in order.
Contact: woodowl.com or 877-552-9663
Street price: from $13 to $64
Video: Watch a Wood Owl auger bit chew through 6″-thick oak in seconds.
To buy: Wood Owl Auger Bits are available from TraditionalWoodworker.com and other retailers.