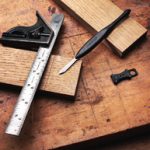 By Megan Fitzpatrick
Page 16
Spear-point marking knives are my favorite marking knives because they're a good all-around choice for most layout tasks in the shop. Because a spear-point knife has two bevels and a flat back, it can easily register against a guide on either the right or left side – very handy when marking dovetails. And the flat back means you don't have to rotate the tool to use it up against a guide (as you do with an X-Acto knife); that means you can sneak a thin spear-point into the smallest of spaces.
Spear-points are, however, a bit tricky to sharpen, and the point is easily broken off if, say, the knife rolls off the bench of someone who's borrowed it.
I've long used a premium spear-point knife, and once I narrowed my choice based on blade thickness and angle, I made my final selection based on ergonomics; it simply felt right in my hand. But it wasn't cheap, and ideally I'd have second one for the shop at work.
Now, Veritas offers a wallet-friendly spear-point "Workshop Striking Knife" that's awfully nice for the price. At less than $10, I can afford a handful – one for work, and a few to loan.
The 1⁄32″-thick,  5⁄16″-wide A2 blade has a 55° included angle at the tip, 25° bevels and a flat back (typical angles for a spear-point knife). The black contoured handle is nylon-reinforced ABS plastic with a flat on each side to keep it from rolling off the bench, and to help register where your fingers should grasp the tool. It comes with a guard to protect the tip in storage.
While I prefer the weight and feel of my premium knife in my hand, the Veritas knife works well – and the price is hard to beat. It's an excellent choice as a backup knife or as a loaner – or as a primary knife when budget is a concern. PWM
Article: Read our article of spear-point marking knives.
From the February 2013 issue #202
Buy this issue now