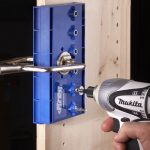 by Steve Shanesy
Page 14
From the April 2012 issue, #196
If your idea of a jig for drilling shelf-pin holes is a piece of pegboard, there's an affordable alternative from Kreg Tool that allows you to step up your game. And even if you have moved beyond pegboard, this new jig will cut down on the possibility of drilling sets of holes in wrong locations.
You know the problem – misaligning the jig when you switch from cutting one row of holes to another. Opportunities to mess up are endless.
This shelf-pin jig, although compact, offers a number of features. It provides two options for setting the pin-hole locations from the cabinet edge. It has a fence to consistently repeat that setting and requires no tools to switch from the 1″ setting to the 2″ option.
And, after drilling your first six shelf-pin holes, an indexing pin slides into the last hole drilled for foolproof repeatability. Hole spacings are based on the 32mm (about 1-1/4″) cabinetmaking standard.
Although the jig is plastic, the holes for drilling have hardened steel bushings for long wear. Standard hole size for the jig is 1/4″; it comes with a brad-point bit. A 5mm bit is available separately and is designed to work with the 1/4″ steel bushings.
And to help prevent that other opportunity to mess up (drilling a hole too deep and through the work), the jig also comes with an adjustable stop-collar. The double-ended indexing pin can be used for either hole size, 1/4″ or 5mm. There's built-in storage on the bottom of the jig for the drill bit, stop collar and indexing pin.
Want a longer jig? Mulitiple jigs can be easily connected with the provided jig extender. (Price: $35)
Web site: Kreg Tool
From the April 2012 issue #196.
Buy the issue now.