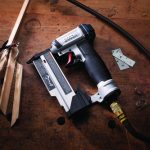 By Robert W. Lang
Page 18
Whenever I use a 23-gauge pneumatic pin nailer, I feel like I'm cheating. It is a fast, easy and reliable way to attach moulding or other parts without much need to disguise the evidence. The slim fasteners leave tiny holes behind that are nearly invisible. This new gun from Bosch has several features in a well-designed tool that make it a great choice at a reasonable price.
Bosch has devoted its efforts recently to tools that are lighter and more powerful than previous versions. The FNS138-23 has 10 percent more power than the previous model, allowing for deeper sinking of fasteners, or operation with lower air pressure.
It also is the first pin nailer to feature a dry fire lock-out. If you're out of ammo, the tool won't shoot. This prevents possible damage to the workpiece or the gun's internal parts and eliminates the embarrassment of dropping a piece of trim after thinking you've nailed it down.
An internal air filter keeps any debris or contamination from the compressed air system out of the internal parts, and the muffled exhaust air exits out the back of the gun. There is a window on the side of the magazine so you can see when you're running low. Fasteners up to 13⁄8″ long are automatically positioned in the easy -to-load magazine.
The tool has a comfortable over-molded grip, is light in weight and nicely balanced with a narrow nose piece and a recessed magazine. You can see where the fastener will go and easily place it in a tight corner or other hard-to-reach location. For putting small mouldings on furniture or attaching household trim, this is a nice tool – and you aren't really cheating.
Articles: Visit our web site to read more tool tests from our editors.
From the December 2012 issue #201
Buy this issue now