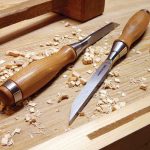 by James McConnell
pg.14
The Veritas (Lee Valley) mortise chisels are awesome in every sense of the word. They're big, heavy and can plow through a mortise in just a few good passes. The size, shape and substantial thickness of the blades bring English "dagger"-style mortise chisels to mind, while the overall shape and length give them the feel of elegant Japanese or sash mortise chisels in the hand.
The chisels are available in 1⁄8″, 1⁄4″, 5⁄16″, 3⁄8″ and 1⁄2″ (and as a set of five). I tested the 1⁄4″ size in both A2 and PM-V11 steel and found little practical difference between the two in terms of edge retention or overall performance. (Their paths diverged at the sharpening stones, however, where PM-V11 was the clear winner, taking a finer edge with fewer strokes.) The rounded heel of the blade might seem like a small detail, but it provides a smoother fulcrum and changed how I used the tool to clear waste. I found myself almost shearing with the edge as I levered, leaving a cleaner and more uniform mortise, especially in the corners.
But it's easy to start judging a mortise chisel from the wrong end and get hung up on the pointy part when the real question is, can this thing take a beating? Years of mallet strikes are the only sure answer to that question, but all signs point to yes. Both test chisels exhibited dead-straight grain oriented exactly 90° to the ferrule to exploit the wood's natural strength, and the hybrid tang-and-socket design resists splitting and tightens with every mallet blow. These chisels are slightly more expensive than others currently on the market, but they're built for the long haul and to my mind, that makes them a bargain.
Website: Check out Veritas Mortise Chisels at Lee Valley.
Video: Watch what mortising looks like from the inside out.
From the April 2017 issue, #231