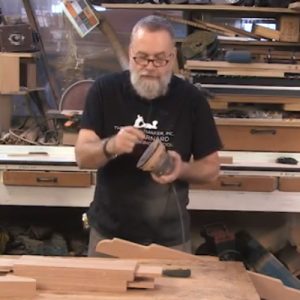 Dale Barnard has been building furniture professionally for decades. And during a recent video shoot, it was very comforting to see that I wasn't the only one breaking the rules on sanding. Building a Greene & Greene furniture piece means changing transition levels in the wood frequently. And that leads to either rasping, filing or sanding to get things tidy.
A combination of those processes is usually a good plan, but Dale shows (in the short clip below), that today's random-orbit sanders (ROS) are versatile and effective. Breaking rules? Yes, I did say that. Most ROS manufacturers will be quick to tell you that you shouldn't use the edge or side of the sanding pad. And they're correct; it will break down the edge of the sanding pad faster and can cause misshaping of the pad. But I'm OK with planning on replacing the pad sooner if it shortens my work in the shop. Dale seems to agree.
So yes, rasping, filing and then sanding is good practice, but sanding power is something I'm willing to abuse!
Take a look at Dale's new video with Popular Woodworking on Building a Greene & Greene Coffee Table.