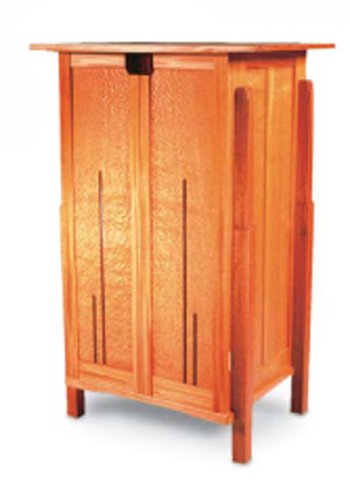 Whenever you're looking for some wood with "wow" appeal, consider lacewood. Large rays create the intricate, lace-like pattern. The lustrous ray tissue reflects light and contrasts beautifully with the dull, red-colored wood it's woven into.The net result is a truly showy piece of wood.

The pinkish-brown color and delicate patterns in lacewood have been compared to rich-colored lizard skin or hand-hammered copper. It's so powerful that a large piece of furniture made entirely from lacewood might be too much of a good thing. It's best appreciated in moderation as an accent wood, such as the paneling in the cabinet shown above. Lacewood is a popular choice for smaller projects like jewelry boxes or turnings.

True lacewood,Cardwellia sublimis, grows in Australia and is very hard to come by.Most of the " Australian" lacewood sold in North America is actually from Brazil (see photo at left).Lacewood retails for $7 to $15 per bd. ft.with highly figured boards fetching even higher prices.

Lacewood is a moderately low-density wood with an average specific gravity of .44 (cherry is .47). It machines well, although the large rays are delicate and tend to chip or crumble when planed. Slow feed rates, sharp knives and wetting the wood surface before planing help reduce tear-out. Sanding works best for smoothing the surface.

We got our lacewood at Eisenbrand Exotic Hardwoods. They sell lacewood for $14 per bd. ft. in either 4/4 or 8/4 stock. The minimum order is $35.

Large rays are evenly distributed

throughout the wood to create

the stunning yet uniform

pattern unique to lacewood.