One of the biggest problems woodworkers have is runs and sags drying in their finishes, especially with slower drying finishes such as varnish (including polyurethane and wiping varnish) and water-based finish. They can also happen in shellac, though it dries faster.
The remedy is simple. You should never have runs or sags drying in your finish whether you're brushing or spraying. The way to achieve this level of perfection is to watch the surface you're brushing or spraying in a reflected light. You may need to arrange some lights or move your body and your head often to see what's happening.
With a reflection you can see easily when a finish begins sagging or running. Then it's a simple matter of using your brush (even if you're spraying) to remove the problem. Lift the excess finish off the surface with the brush and spread it to another part or drag it over the lip of a jar or can.
If runs or sags do dry in the finish, you'll need to wait until they dry hard all the way through, which could take days for varnish, then sand or scrape them level. Then you'll probably need to apply an additional coat of finish to make it look good.
So, don't let them happen in the first place.

---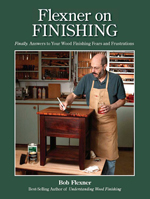 Want to learn more about finishing from Bob Flexner?
Check out his book "Flexner on Finishing," at shopwoodworking.com