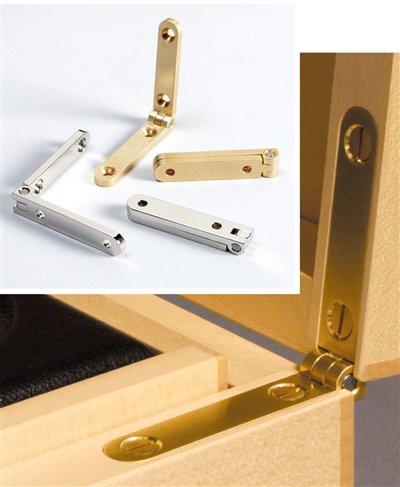 Finely Crafted Box Hinges
By Brad Holden
Finely crafted projects, such as the boxes made
by Ian Hawthorne, deserve the best hardware. These
Neat Box Hinges from Hawthorne Crafts will lend
beauty, subtlety and durability to any small project.
Crafted in County Antrim, Northern Ireland, these
hinges are "cracking good." They're set in, like knife
hinges, so when the box is closed, only the short
barrel on the back of the box is visible; hence the
"Neat Hinges" name.
Most box hinges are installed the "short way,"
along the back. Hawthorne Neat Hinges are
installed the "long way," along the box sides. This
creates a more durable joint, because the screws are
less likely to pull out.
Neat Hinges are also beautifully made. Fit and
finish is flawless. Their movement is precise, with a
built-in stop at 93°, just enough past 90° to ensure
that the lid stays open.
Neat Hinges come in nickel or brass, polished to
a mirror finish. The hinges are slightly more than
8mm wide, so minimum stock thickness is 12mm
(just less than 1/2"). Mr. Hawthorne recommends
an 8mm dia. bit, but states that a 5/16" dia. bit will
also work. A drilling guide is included with the
hinges to ensure straight pilot holes. Brass hinges
come with #3 x 5/8" brass screws. Nickel hinges
come with M2.5 x 16mm stainless steel screws.
Source
Hawthorne Crafts, hawthornecrafts.com,
ian@hawthornecrafts.com, Neat Hinge Pair,
#NHQ-php, Brass, Nickel.