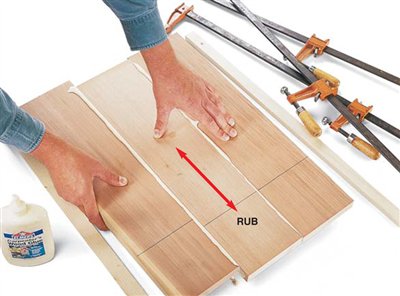 Q & A: Rub-Joint Gluing
Q:

My panel glue ups drive me nuts because the boards
slide around whenever I clamp them together. Then I end
up beating them back into position. What's going on?

A:

Most likely you're putting too much glue on the joints
and your boards are simply "swimming" around on the
excess glue. Try the rub-joint gluing method instead.

Apply glue to only one edge of the joint, slide the two
boards back and forth until the glue becomes tacky, and
then clamp the boards. Bonus: rubbing the boards
together distributes the glue evenly and produces a strong,
thin glue line.

Click any image to view a larger version.

Before clamping, rub the boards back and
forth for a no-slip glue up.