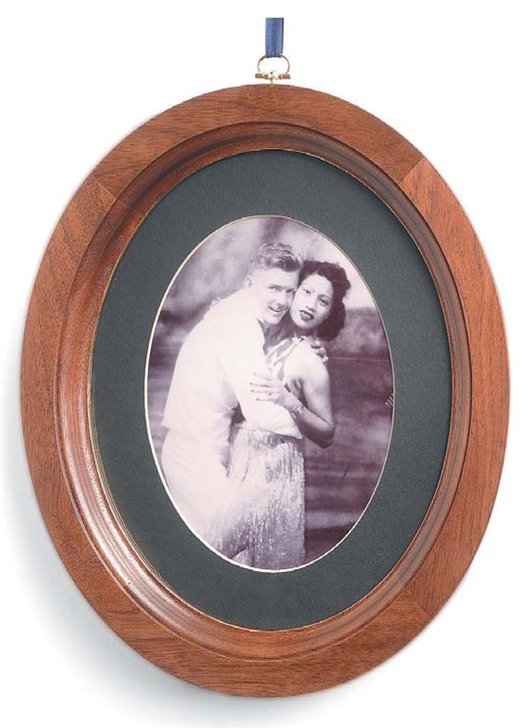 Oval Picture Frames
Don't let their
shape intimidate
you —these
classic frames
are easy with
our simple jigs.
By Randy Johnson
Oval frames are delightful eye-catchers, evoking
images of days gone by and giving a unique setting
for that very special photo. At first glance these frames
may look tricky, but we've figured out an easy way to
make them and you don't even have to know how to
draw an oval. Simple-to-make jigs and patterns are all it
takes. In fact, this method can be used to make almost
any size oval or round frame.

Oval frames in four easy steps


The four basic steps to making an oval frame are:

1. Create a frame pattern using a piece of oval glass,
some 1/4-in. plywood and a couple of washers (Fig. C
and Photos 1 through 5).

2. Prepare the frame parts for routing. This involves cutting
the miters to size, gluing them together and rough
sawing the oval shape (Fig.B and Photos 6 through 9).

3. Make the router jigs and rout the frame to final size
and shape (Figs.A, E,F, G and H and Photos 10 through
13).

4. Finish your frame and install the glass,mat, picture
and an oval screw ring (see Sources, below) and it's
ready for the wall.

Materials and tools


It takes only 2 bd. ft.of 1-1/8-in.-thick lumber to make
one of the frames shown here. The jigs can be built
from scrap 3/4-in. plywood or medium-density fiberboard
(MDF). You can buy oval glass from a picture frame
shop or by mail order (see Sources, below). Your framing shop
should be able to make you an oval mat. You can also cut your own glass and mat and
save a bunch of money (see Cutting Your Own Ovals, below).

The tools you need to build the jigs and frame are a tablesaw, a jigsaw, a router with a 1/2-in.
collet, and a drill press with a drumsander
attachment.You will also need a
flush-trim, rabbet, 45-degree chamfer,
and Roman-ogee router bit, and a slot
cutter (see Sources, below). If your
lumber is rough sawn you'll need a
planer and jointer. A router table and
either a belt sander or disc sander are
also handy but not absolutely necessary.

Router table vs. router jigs


There are a couple of steps (Photos 12
and13) that can be done on a router
table or with the frame-holding jigs
(Figs. G and H). I opted for the jigs
because I think they're safer and easier
to use.When I tried making these cuts
on the router table, I found holding the
frame with push blocks awkward
because they tended to slip off the narrow
frame during routing. I did use the
router table to cut the spline slots (Photo
6) because it's quick and accurate, but
the slots could just as well be cut on the
tablesaw.

Oops!

While developing this project we used several
types of wood: oak, pine,walnut and mahogany.
They all machined nicely except the mahogany. It
had a tendency to chip out when flush-trimming
the outside diameter.With a curved shape like
this you're guaranteed to be routing against the
grain somewhere along the edge,making chip-out
likely.

If you do experience chip-out, the solution is to
sand the outside diameter of the frames rather
than rout them. You'll have to do the sanding
freehand without the aid of a jig but it does the
trick and is almost as fast as routing. So if the
wood you choose gives you trouble with chipping,
give your belt or disc sander a try.

Cutting your own ovals

You can buy oval glass and mats or you can make your
own. They pay for themselves after about a half dozen frames.
These cutters cut ovals from as small as 4-1/4 in.by 7-1/4 in.
to as large as 21-1/2 in.by 24-1/2 in.They produce excellent
results and are easy and fun to use.

Fig. A: Oval Frame Cross Section

The shape of the oval
frame is created with the
use of four different
router bits; a flush-trim
for routing the frame to
width, a chamfer, a rabbet
and a Roman-ogee.

Fig. B: Exploded View of Frame Parts

The oval frame starts out
as a rectangle. The spline
joints add strength at the
corners and the clamping
notches are a big help
when gluing the frame
parts together.

Fig. C: Oval Frame Pattern

Make this out of 1/4-in.
plywood. Photos 1
through 5 show you how.

Fig. D: Position of Spline Slot

The spline slot is located slightly
toward the back of the frame. This
keeps the spline from showing up in
the Roman ogee (Fig. A).

Fig. E: Flush-Trim Jig for Inside Diameter

Attach the rough-cut frame to this jig with two 1-1/4-in.
screws set back 5/8 in. from the inside edge.

Fig. F: Flush-Trim Jig for Outside Diameter

Attach the frame to this jig with two 1-1/4-in. screws set
back 3/4 in. from the outside edge.

Fig. G: Inside Frame-Holding Jig

Use this jig when routing the chamfer on the back of the
frame (Photo 12).

Fig. H: Outside Frame-Holding Jig

Use this jig when routing the rabbet for the glass and the
Roman ogee.

Sources

(Note: Product availability and costs are subject to change since original publication date.)

Hardware and Tools.com, hardwareandtools.com, Hillman Group 122321 Oval Screw Ring (3-pack), #u857458.

Victorian Frame Co., victorianframecompany.com, 877-576-1888, Oval-shaped flat glass, 8" x 10".

Rockler Woodworking and Hardware, rockler.com, 800-279-4441, Top bearing flush-trim bit, 1-1/4" cutting length, #21046; Rabbeting bit set, #91595; 45-degree chamfer bit, #25162; Roman Ogee bit, #91639; 1/8" 3-wing slot cutter; #91750.

M&M Distributors, mmdistributors.com, 800-526-2302, Logan oval and circle mat cutter, #1900; Fletcher oval/circle glass cutter #8461.

Rust-Oleum American Accents paints are
available at hardware and paint stores nationwide.
Gold metallic, #7954730.

This story originally appeared in American Woodworker March 2003, issue #99.

Click any image to view a larger version.

We designed this frame for an 8×10 photo
without a mat or a smaller photo with a mat, but
you can make the jigs bigger or smaller to fit
almost any size photo.

1. Start with your oval glass and trace it
onto a piece of 1/4-in. plywood.Then saw
out the inside with a jigsaw and carefully
drum sand right up to the pencil line.This
piece of plywood is your glass pattern.

2. Trace around the inside of the glass
pattern onto another piece of 1/4-in.
plywood.This new piece of plywood will
become your actual frame pattern (Fig. C).

3. Use a 3/8-in. flat washer and trace
around the inside of the glass pattern.This
line marks the inside diameter of the frame.
Note:Any washer that produces a 5/16-in.
or slightly bigger offset will work. Just make
sure the offset is not bigger than 3/8 in. or
the glass may not fit the final frame.

4. Draw around the glass using a 2-1/8-
in.-dia. plywood disc.This marks the
outside diameter of your frame. Use your
oval glass as a guide by centering it on the
line you drew earlier (Photo 2).

5. Complete the frame pattern by cutting
it out and sanding it to final size. Leave the
inside and outside diameter pencil lines. Be
careful to sand the oval evenly, without any
lumps or valleys.

6. Rout the spline slots in the mitered ends
of your frame parts (Fig. D). Next make the
splines.They should slip easily into the
slots, but without a lot of play.

7. Glue the frame parts together using a
clamp at each corner. Use light clamping
pressure at first. Increase the pressure
once all the parts are correctly aligned.
Wipe off any glue squeeze-out while it is
still wet or scrape it off later.

8. Draw around the inside and outside
of your frame pattern. The pattern
doesn't need to be perfectly centered on
the frame material, just make sure you have
a little extra wood all the way around the
outside and inside.

9. Rough cut the glued-up frame with a
jigsaw. Leave about 1/8-in. extra wood
beyond the pencil lines.

10. Flush-trim the inside of the frame using a top-bearing, flushtrim
router bit. The rough-cut frame is held to the jig during
routing with two screws driven into the back of the frame.The jig
is held in the vise by a plywood cleat on the bottom of the jig (Fig.
E). If you are only making one or two frames, you could just sand
the inside flush using a drum stander and skip making the jig.

11. Flush-trim the outside frame diameter the same as you did
with the inside, except with a different jig (Fig. F).We experienced
some chipping when routing a mahogany frame (see Oops!, left), but the walnut we used for the frame shown here routed
cleanly.

12. Rout a chamfer on the back outside corner of the flushtrimmed
frame. Use the inside frame-holding jig (Fig. G). No
screws are needed to hold the frame to this jig, because the inner
disc keeps the frame in place.

13. Rout the rabbet for the glass in the back of the frame.This
time use the outside holding jig (Fig. H). No screws are needed
here either.This jig alone will hold the frame in place while
routing.Then flip the frame over and rout the Roman ogee on the
front inside edge.When you're done routing, sand the frame and
you're ready for finishing.

14. Finish your frames with your favorite finish.We added a
little sparkle to our frames by painting the inside edge with gold
metallic paint (see Sources, left).You can now install the glass,
mat and photo.