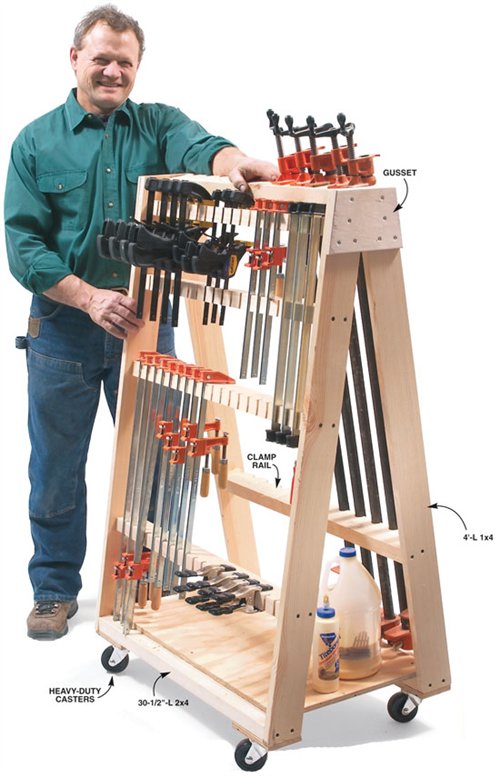 Mobile Clamp Rack
Hold it! Roll it! Hang it! Store it!
By Roger Meinen
Tired of dragging clamps around my shop, I built this rack that brings them right to the job. It takes up only 21 x 32 in. of real estate and can handle 36 adjustable clamps and 12 4-ft. pipe clamps.
I assembled the side frames separately before screwing them together with gussets at the top and a plywood shelf at the bottom. I tapered the ends of the 1x4s at the top to fit. Before installing the 3-in. swivel casters, I glued on plywood pads to reinforce the corner joints.
Each frame consists of 2×4 and 2×6 rails screwed to 1×4 ends. I ripped the 2x6s in half to make the clamp rails. I staggered the top rails so the pipe clamp rail sits higher.
To make the half-round cutouts that hold the pipe clamps, I drilled centered holes in the 2×6 before I ripped it in half.
On the other frame, I cut slots in the rails for adjustable clamps. I cut the slots on my tablesaw, using my dado set and the miter gauge.
This story originally appeared in American Woodworker May 2005, issue #114.